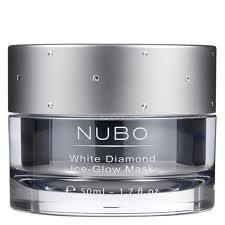 The best things come in small packages and this is often the case when it comes to luxury skincare. It is often the most powerful products that are packed into the tiniest tubs and my luxury product of the month is no exception. Meet the Nubo White Diamond Ice Glow Mask, the ultimate skin detox for the party season. Christmas is almost here and this little gem will ensure that you look like you've had your beauty sleep even if you've partied hard.
Whether you want an anti aging product that does what it says on the tin or you simply want to erase the tell tale signs of all of those late nights, this will banish tired looking skin at speed. I've wanted to try the Nubo mask ever since i saw it peeking out from the glossy pages of Vogue and I'm happy to say I wasn't disappointed.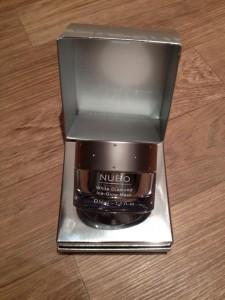 I've been using the Nubo mask twice a week over the last month and quite frankly I'm a little obsessed. I love the tingly sensation and the coolness is really refreshing after a sauna and steam session at the gym. I've had quite a few compliments on my complexion and this is always the sign of a beauty product that is worth the price tag. At £100 a pop, this luxe beauty mask isn't a bargain but it's the price you pay for a great skin day. Unlike other expensive products you can actually feel it working and the cooling sensation lasts for the duration of the treatment. I use this mask when my skin needs a little TLC, when I'm in need of the ultimate skin detox.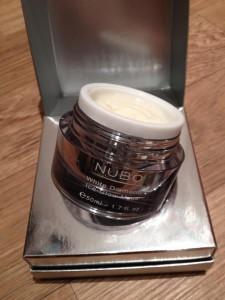 The tub itself is beautiful but the contents are just as impressive. This is a great gift     for mums, daughters, sisters and best friends if you have the cash to splash.
This is my first Nubo experience and I'm already a little in love with the brand so you have a favorite Nubo product, leave a comment as I'd quite like to expand my collection. What Nubo products are on your Christmas list? x
Preferences § 1 2 3 4 5 6 7 8 9 0 - = Backspace Tab q w e r t y u i o p [ ] Return capslock a s d f g h j k l ; ' \ shift ` z x c v b n m , . / shift English Deutsch Español Français Italiano Português Русский alt alt Preferences