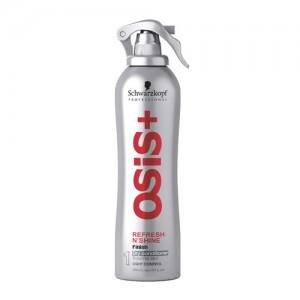 Warning: This product may attract magpies…
Introducing this month's Luxury Product of the Month. The OSIS Refresh and Shine is perfect for those who covet supermodel esque hair that glistens. If you read my blog often you will be used to my obsession with anything shiny.  So what's the formula for super shiny locks? Read on to find out all about my new shine secret.
OSIS-Spray on Shine
This product is a jet setter's dream. One spritz can take your hair from limp to lovely in seconds. Schwarzkopf are known for their fabulous haircare products and this latest creation doesn't disappoint. Throw it in your  bag and spray it on when you need a boost.
Shiny Hair-The Rules
1) Thou Shall Not Over Wash
Washing your hair is part of every girl's beauty routine but over washing can strip your hair of natural oils and as a result it can look dull and lifeless. Try to wash your hair every other day to avoid this.
2) Thou Shall Use Protection
The hairdryer, straighteners and curling irons cause havoc on our hair and it is essential to use products that protect our locks from the heat.
3) Thou Shall Love Luxury
A luxury treatment or two will whip your hair into tip top shape in no time. I've chosen OSIS refresh and shine to give my hair a little TLC.
4) Thou Shall Invest in Better Brushes
Still using the hairbrush you owned five years ago? It's time for an upgrade. Natural bristles are the key to obtaining the shiniest strands.
5) Thou Shall Learn to Love your Hairdresser
Regular trips to the salon can help to keep your hair in great condition. Goddess like locks require regular maintenance in order to achieve maximum shine.