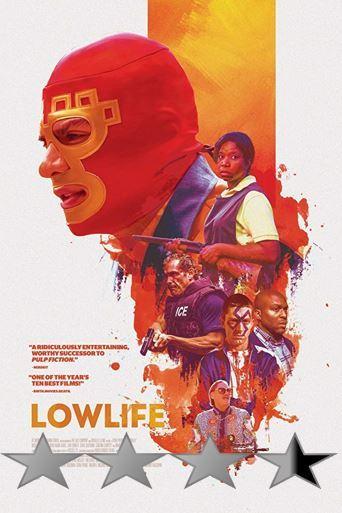 Director: Ryan Prows
Writer: Tim Cairo, Jake Gibson, Shaye Ogbonna, Ryan Prows, Maxwell Michael Towson (Screenplay)
Starring: Nicki Micheaux, Ricardo Adam Zarate, Jon Oswald, Shaye Ogbonna, Santana Dempsey, Mark Burnham, Jose Rosete
Plot: The sordid lives of an addict, an ex-con, and a luchador collide when an organ harvesting caper goes very, very wrong.

Tagline – Blessed Are The Meek
Runtime: 1 Hour 36 Minutes
There may be spoilers in the rest of the review
Verdict: Wonderful Connected Crime Comedy
Story: Lowlife starts as we see the organ harvesting business going on in LA, being run by Teddy 'Bear' Haynes (Burnham), one of his loyal employees is known as El Monstruo (Zarate) a luchador that goes around solving problems, he seems to black out on just what happens, which usually sees somebody else die.
We meet Crystal (Micheaux) who runs the small motel which is filled with the illegal immigrates and is facing a big decision regarding her husband. The final character we meet is Randy (Oswald), just out of prison with a swastika tattooed on his face, the four will cross paths and just where they will end up going for what they want is up in the air.
Thoughts on Lowlife
Characters – Crystal runs a small motel with her husband, she has to give up her daughter at a younger age, when her husband becomes ill, the local crime boss claims to have a solution with her daughter wanting to help, when she learns the truth she wants her own revenge on Teddy. El Monstruo is a luchador who has always lived in his father's shadows, he can have moments where he blacks out where violence happens. He wants to protect his wife and keep his family's legacy going. Randy is the recently released prisoner who has gotten tattoo of a swastika on his face, he will reluctantly help his friend deal with his dangerous situation. Kaylee is the pregnant wife of El Monstruo that becomes the target of everything the events in the film.
Performances – We have four main stories, with four different characters, each different and each performer makes their performance stand out for their roles in the film. nobody is better than anybody else and the chemistry between the cast feels genuine.

Story – The story follows the four different people's lives that intertwine in the course of one day, we have illegal body harvesting, kidnapping and a luchador that will smash any problems coming his way. We do get introduced to each character through chapters which does take time at certain times, but does give each character to develop the motives behind their actions. This does mean we head down certain directions, which include the opening sequence that doesn't seem to get bought up in the way it is played out again, which does disappoint because it felt like a truly dark world being created. The story has the Tarantino style we have become used to which is always an entertaining watch.
Comedy/Crime – The comedy plays into how the characters fit into the world, they are in the crime world too which sees them meet unlikely funny moments in the film.
Settings – The film is set in LA which shows that not everything is the glitz and glamour that we know it can be.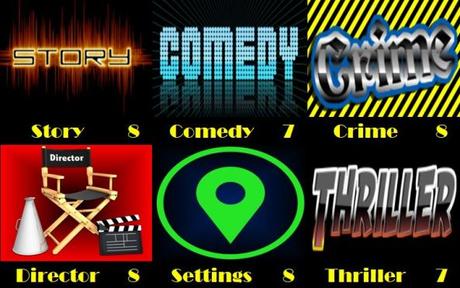 Scene of the Movie – First El Monstruo story.
That Moment That Annoyed Me – We don't dive into the world from the opening sequence enough.
Final Thoughts – This is a weird and funny, crime comedy that takes us into a n unique world that is filled with colourful characters.
Overall: Funny Crime Comedy
Rating

Advertisements