Brentford v Doncaster
With one game of the season remaining, Brentford hosted Doncaster Rovers, needing to win to move above them into the second automatic promotion spot. If that wasn't a tense and dramatic enough set-up, Brentford had the league's best home record; Doncaster the league's best away record. A draw would take Doncaster up in 2nd.
There was also the chance of Doncaster winning the title…but Bournemouth, the league leaders, had won eight in a row and were playing Tranmere, so thoroughly demoralised after their fall from the top of the league that they'd lost 12 from the last 16. Realistically, everyone knew the title was Bournemouth's, even if Tranmere announced the Cherries wouldn't be allowed to be presented with the trophy, as they "felt they were not absolutely able to guarantee the safety of all players, match officials and supporters on the day".
It seemed a given that Bournemouth would win their match, regardless, because they couldn't both overtake Bournemouth, it was each team for themselves, a cup final of a match. Brentford's Bradley Wright-Phillips struck the inside of a post from a tight angle; Doncaster's Jamie Coppinger shot powerfully from range; Brentford's defensive midfielder Jonathan Douglas skied a good chance about twenty feet over the bar. The game looked to be ending in a draw until, spotting a handball, the referee awarded a penalty, which, if converted, would see Brentford overtake Doncaster.
It wasn't the worst taken penalty I've ever seen – but it was struck powerfully against the woodwork bouncing out. Hectically, Brentford tried to force the ball back into the area without success. Doncaster somehow managed to bundle it out to the right wing, where they were breaking rapidly – one of their strengths this season. Billy Paynter ran with the ball before passing inside to Jamie Coppinger, running into the opposing box… There was a gap of 18 seconds from Brentford's penalty being struck to Coppinger slotting in the finish for Doncaster in the sixth minute of stoppage time. That would be a pretty amazing story if there was nothing at stake – the goal kept Doncaster above Brentford and because of Bournemouth's failure to get the win they needed, it also Doncaster the League One title. Unless there's been a title won somewhere with a sick child relying on the prize money from one team's winnings to get his life-saving treatment, that's surely got to be the most dramatic way a title's ever been won, anywhere in the world.
It'll have been gut-wrenching for Brentford to have promotion snatched away so late, and to a lesser extent, Bournemouth. I quite like Bournemouth as a club (Eddie Mitchell aside) but still find the relative suffering of others amusing (more out of silliness than spite). At the end of the Tranmere game, a large number of fans made it onto the pitch, where they were chanting "Championes" and "We want our trophy now" amongst other things. In the video below, if you pay attention to people checking their phones, you can see the news working it's way through the crowd… and hear one guy who's way behind the curve.
Flynn's Reward
Dean Saunders walked out on Doncaster Rovers in January, leaving behind a squad he'd assembled over the summer but admitted he felt to be lacking in depth, to take over Wolves – dropping down the Championship but still hugely talented at that level.
Although his side had just moved into the second promotion spot two days before he departed, there was still work to be done to keep them that high. Doncaster appointed Brian Flynn, the former Swansea, Wrexham and Wales U21 manager, at the time a scout at the club, first as caretaker manager then as boss until the end of the season. Of the 20 games since, Doncaster have only dropped out of the top two for one game and had been top for 10 games, until they were knocked off top spot in the penultimate week of the season. Everyone I've seen from Bournemouth seems to be magnanimous that Rovers ultimately deserved the title.
As reward for winning the League One title, Flynn has been given a new contract… for two weeks. Okay, it's not quite as tight as it sounds, seemingly a makeshift measure until the chairman and shareholders meet to make a more permanent decision next week. Hopefully Flynn will be given the opportunity to manage in the second tier for the first time in his career.
Swindon Struggle Post-Paolo
Coverage of Paolo di Canio in recent months has generally fallen into one of two groups. Either he's an indulgent idiot who'll inevitably bring things crashing down at Sunderland, or he's a genius who has improved Sunderland's players by laying hands on them. In truth, he's a good manager, who was blessed with resources but pushed his players hard.
His replacement at Swindon, Kevin MacDonald has not been having the same effect.
Di Canio's overall record in the league was 58 points from 32; caretaker player-managers Tommy Miller and Darren Ward picked up one point from two games; MacDonald's record is 15 from 12. Of course, it's easy to argue that MacDonald is dealing with the fall-out of di Canio's dramatic departure. You'd expect a rift of some sort to form between the new owners and the playing staff, at a club that was previously dynamic and united. There's also the possibility Swindon are feeling the effects of fatigue after di Canio's high-tempo demands, or the more straightforward possibility that McDonald, a highly respected coach who had two spells as caretaker manager at Aston Villa, is still learning the craft of management.
Losing to Scunthorpe on the final day, whose chances of staying up were out of their hands, with Colchester playing a less talented and less motivated opponent in Carlisle, wasn't a great end to the league season proper. Whatever the reason, Swindon will have to step up their game if they're to achieve a second successive promotion.
Jeremy Kyle's Team Talk
I promise this really happened – before the last day of the season, former Hull manager Phil Brown invited talk show host Jeremy Kyle to give the pre-match team-talk to his Southend team. Brown has… a bit of a weird mind. He celebrated Premier League safety with karaoke and once publically wondered if he's been a victim of racism because he's orange.
When Brown's predecessor Paul Sturrock was sacked, Southend were six points and one place below the playoffs with seven games to play,  and had a Football League Trophy final to prepare for. Brown's league record has been one win and three draws from seven games and the final was lost to Crewe, who admittedly are a division higher. Bradford overtook Southend to make the playoffs and Chesterfield almost did the same, so it wasn't impossible for Southend to bridge the same gap. Particularly as looking back, Southend's bad league form could be blamed on competing in the league and the Football League Trophy at the same time.
While it's easy to ridicule Brown, he had to put his own stamp on the team and low morale and bad habits were bound to have crept in as a result of Southend, who were one point from automatic promotion last season, slipping out of playoff competition. As for the specifics of bringing in a man most famous for issuing DNA tests and shouting at people on daytime television… Brown has a reputation for being willing to look beyond conventional ideas, being a creative mind on the training ground. His idea of getting in a guest to give a team talk isn't totally different from Jurgen Kilinsmann's idea of getting Olympic athletes and explorers to inspire the German national team.
But just because it's easy to laugh at Phil Brown doesn't necessarily mean it's wrong!
The League Two Promotion Battle
Behind League Two champions Gillingham, Port Vale in second were on 77, Rotherham in third on 76, Cheltenham in fourth were on 74 and Burton in fifth on 73.
Vale were three points and 28 goals ahead of Cheltenham, who were hosting Bradford, a team preparing for the playoffs. It's just about as 'not quite mathematically promoted' as it's possible for a side to be without being mathematically promoted. Burton were three points and eight goals behind Rotherham – Rotherham playing the side bottom of the league, Burton playing the champions. In a practical sense, it was Rotherham against Cheltenham for the final place.
By half time, Burton had come from behind to lead 2-1 at home to champions Gillingham, Port Vale were behind at Wycombe, and the other two games were goalless. Rotherham finally got their breakthrough on the hour mark when Jonny Mullins pounced on a dropped catch, going on to win 2-0 in a result that made the rest academic. Burton held on to beat Gillingham 3-2 and help prepare themselves for the playoffs, Port Vale equalised through Lee Hughes' poacher's header to draw their game, and Cheltenham were held by Bradford, despite Andrew Davies being sent off on the hour mark. Bradford will now face Burton in the playoffs, though without one of their key defenders; Rotherham leap-frogged Port Vale, the Football League's top scorers into second place.
Aldershot Down
While in theory there were seven teams that could be relegated from League Two into two places on the last day, Aldershot, bottom of the league, were three points and six goals adrift, meaning they were more or less down before losing to a highly motivated Rotherham.
Manager Andy Scott has said the expected things about improving the style of play, working hard, and bouncing back from relegation.
But economic problems will prove an impediment to Aldershot. Majority shareholder and former chairman Kris Machala has spoken about being willing to hand over his shares for the right amount of support to the team. Aldershot failed to pay the players' April wages, when there'll have been cash flowing through the club. As a result the club, formed only 21 years ago after the demise of Aldershot FC, have gone into administration.
As a traditional non-league team who spent a respectable amount of time in League Two before being relegated back to non-league, Aldershot's future could be seen by looking at Hereford – similar in all these regards. This week, Hereford announced that they "have not been able to pay players' wages" because of a "cash flow crisis". The statement continued, saying that "we have completed a season where we knew our FL funding was to be £500k less than in League Two. We have also recorded gate money approx £240k less than the previous season."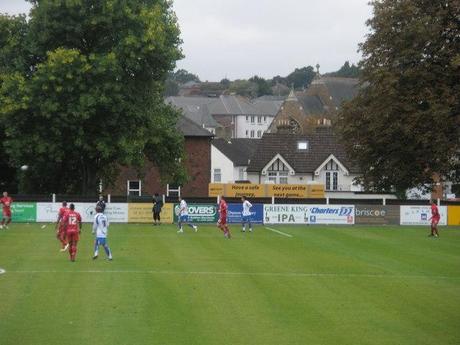 Some scenic views at Aldershot's Recreation Ground. Courtesy of Basher Eyre
The threat to both Aldershot and Hereford's future could be urgent. Following Chester City going bust during the 2009-10 season, leaving a number of fixtures unfulfilled, the Conference have taken a hard line with clubs in financial trouble. In order to exit administration, they insist that clubs either repay all debts or have an agreement to pay all debts in full (including non-football debts) within three years. Potentially tougher, they don't allow any clubs in administration at the time of their AGM to compete in the one national and two regional leagues they run the following season. Rushden and Diamonds were one notable AGM Cup loser in 2011; Kettering FC were kicked out of the Conference South last summer.
It's hard to tell from a distance what the odds are, but there's a chance Aldershot could be kicked down a further two divisions.
The Relegation Dog-Fight
Aldershot's predicted defeat means that there were six other teams trying to avoid one other relegation slot.
At the start of play, Wimbledon were in 23rd spot with any of the teams from18th downward catchable. Torquay, Plymouth, York, Dagenham & Redbridge, Barnet and Wimbledon all faced tense final days.
The first dramatic event of the day came at Rochdale, where Plymouth's Maxine Blanchard was sent off after quarter of an hour for pulling back an opponent. Reports suggest this allowed Rochdale to pile on the pressure (without giving away the result, Plymouth finished the game with 24 shots, 13 on target). The only first half goal in games involving the endangered teams came at Torquay, where Bristol Rovers' Tom Hitchcock gave Bristol Rovers a 31st minute lead.
Events really kicked off in the second half. Torquay equalised through Elliot Benyon in the 52nd minute; Bristol Rovers then retook the lead in the 55th when Torquay's Ryan Jarvis headed down into the ground so powerfully it bounced back up, over the despairing keeper. Jarvis managed to avoid becoming the villain when he grabbed the Gulls' second equaliser on 62 minutes… right as Wimbledon's Gary Alexander was giving them the lead against Fleetwood, sending Barnet into the relegation zone.
But Fleetwood equalised in the 64th minute through Andrew Mangan, putting Wimbledon back in the drop-zone.  (The equaliser occurred as Soccer Saturday were reporting on the first goal.) Elliot Benyon gave Torquay a 3-2 lead, their first of the match, meaning they'd be staying up regardless of what happened elsewhere.
In a game between Dagenham & Redbridge and York, a game which would guarantee survival to the winners, York took the lead against the overall balance of play when Chris Smith span to connect with a volley. Northampton, holder of the division's second best home record, took the lead against Barnet in the 67th minute when Roy O'Donovan slotted into the corner. Barnet were still staying up at this point, thanks to Wimbledon's failure to win and Barnet's superior goal difference. That changed in the 72nd minute, when Wimbledon's Osano was tripped, giving Jack Midson the chance to take the lead from the spot. He finished calmly, putting his former club Barnet in the relegation zone. Barnet's troubles got worse a minute later, when Northampton doubled their lead. Rochdale finally took the lead against Plymouth's 10 men when Joe Bunney scored in the 78th minute, with what was reportedly his first touch in league football.
At this point, Barnet needed a two goal turnaround at one of League Two's fortresses to have any chance of staying up; Dagenham (who looked safe in mid-table when John Still left for Luton two months ago) would then need to grab an equaliser against York to force a drawing Barnet or losing Plymouth into the relegation zone.
But none of that happened – the only further action was Matt Harrold's 94th minute equaliser for Bristol Rovers at Torquay, to seal a final day 3-3 draw. So, despite their penultimate game drama, Barnet were unable to follow it up with a performance capable of keeping them in the league. After three successive last day escapes, the habit of living dangerously has finally caught up with the Bees.
Edgar Davids in Non-League?
Though Barnet's player-manager has made no formal announcement at the time of writing, it appears he intends to stay with Barnet, saying
"I am not one who polishes his medals. It is what it is and you are where you are. If you have to go to the Conference, you go to the Conference."
An interesting chapter in Soccernomics talks about attendances regularly jumping when a club moves to a new stadium, possibly because it acts as a natural 'jumping on' point for new clubs. In fact, with the new ground being outside their historic borough, there's the chance of Barnet winning fans from the Harrow area of London… although expectation seems to be more about losing their current fans, for whom the journey acts as a further disincentive. In addition, next year the Bees could very easily face the same economic problems Aldershot and Hereford are anticipating.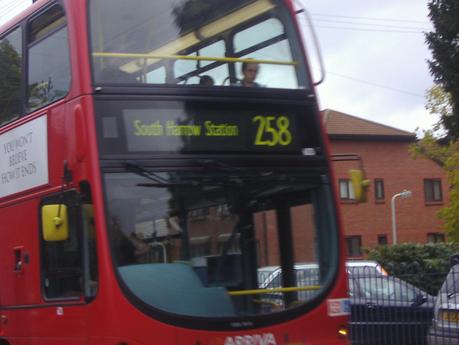 This bad boy will take you to Harrow. Courtesy of David Howard
But with Davids able to make his own signings in the summer, and with a name and range of contacts unparalleled in the Conference, not to mention high-quality coaching facilities (which played a part in Davids' arrival), an immediate promotion challenge isn't totally out of the question.
The Managerial Merry Go Round Kicks Into Motion
It probably seems incredibly heartless, but almost as soon as the season ended, Torquay made the decision to sack manager Martin Ling, currently on sick leave with a 'debilitating illness'.
But as harsh as it seems, there are solid footballing reasons. Results hadn't been great before his illness – at the point when Ling's departure from the team was announced, the Gulls had lost eight of the last 15. Ling's assistant took over, then former Bury and Scunthorpe manager Alan Knill was brought in as a caretaker manager to keep Torquay afloat. Given that Torquay competed in the playoffs in the previous season, their involvement in a relegation battle can be seen as relative failure by Ling and there probably wouldn't have been an outcry had Torquay decided to part ways around the time he took sick leave.
Meanwhile, Leam Richardson has resigned as Accrington manager to follow previous boss Paul Cook to Chesterfield.
Tommy Wright, who was Cook's assistant manager and previously caretaker manager of Chesterfield, departed to leave the role vacant. On the surface, it looks strange, particularly with the clubs in the same division and Richardson having been at Accrington for eight years as player, coach and manager. But having had the best part of a season as a manager, in which his Accrington side finished in the lower quarter of the table, it seems he decided that management wasn't for him and he's better suited to being second in command.
What do you think about what I have to say about your club? Are those mentioned under-appreciated or overrated? Did I miss someone or something that should be covered? Spread the word if you enjoyed what you read, or join in by commenting below, or find me on Twitter @Joe_Bloghead
Born Offside