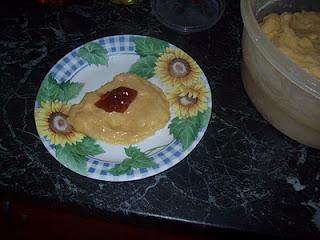 LOW FAT DONUTS
Modern way of life and to much fat food encres all kind of cardiovascular illness and  make to many people sufer of high blood presure.
Thats way we have to change our everyday food!
But we all really love to eat something sweet and at the top of desserts is very popular donuts.
My grandchildren adore donuts and thay like to eat it before school!
So i was thinking,thinking hard and at the end i decided to try with this my own recipe for donuts!
My family find it very nice and we all recommended it to all our friends.
now i will share this low fat donuts recipe with my blog friends!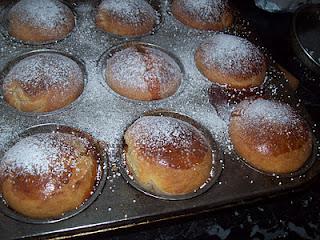 Integrates/for about 24 donuts/
3 big eggs
35 tbs flour
10 tbs brown sugar
2 tea spoon dry yeast
10 tbs corn oil
juice and peel of 1 lemon or orange
1 vanilla sugar
little sea salt
warm water if its necessary
/mix all ,add first flour and sugar,sea salt and all dry integrates,mix a little,than add eggs,corn oil,juice and if dough is to hard little warm water.
Mix it well,with hands/as you mix bread/.
Put it on warm place for about half hour/dough must rise to be twice bigger/.
With that rised dough you have to make little balls,i use plait...add little dough at oil plait,make it round with hand ,put choco cream or low fat jam in the middle,roll it and than add it in muffins modl.
Bake it in preheat oven about 40 min. at 160 Celsius.
Im sure if you try this recipe you and your family will enjoy in low far donuts!