Sunday usually involves some sort of baking for me, to get some snacks ready for the beginning of the school week.  I feel like I've been making some of the same things over and over (baking rut!), and so wanted to do something different today.
I turned to my first book, The Everyday Vegan, and baked up this

Apple Swirl Loaf

.  It's really quite easy to make, but looks kinda' impressive with the streusel effect.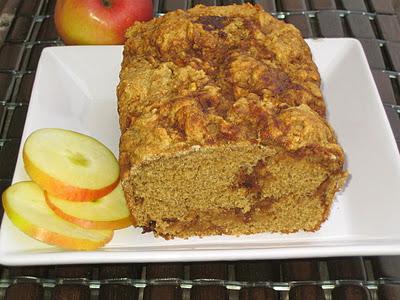 Let's take a closer look at that cinnamon-apple swirl, shall we...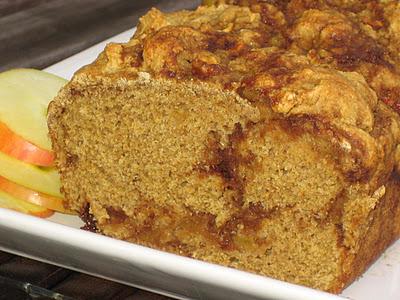 Pretty, huh?  The smell (and taste!) of the cinnamon/apple mixture is divine, I wish you could smell the aroma that I did when taking the photos!  This quick bread uses whole-grain flours and just one tablespoon of oil in the entire loaf, so it makes for a low-fat snack.
For those of you that don't have TEV, I will post this recipe in the next couple of days.  I'd do so today, but am up to my eyebrows with house chores.  You can wait a day or two, right? Wish you could smell it right now though...  :)