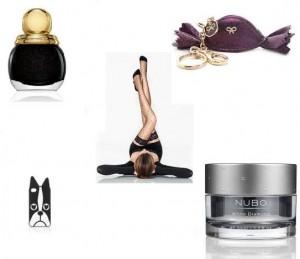 Forgotten someone? With only a few precious days left to shop, this little gift guide might just come in handy. Here are some lovely last minute gifts for those people you love to spoil at Christmas.
1) Wolford Silver Glam Stay Ups-I've picked out these scandalously sexy stay ups as they would be my stocking of choice this Christmas but the truth is you simply can't go wrong with Wolford. Luxurious and deliciously decadent, the stocking range is perfect to slip under the tree when you have only a few precious shopping days left.
2) Diorific Nail Polish in Black-Dior nail polishes have received a festive makeover and I couldn't think of anything simpler to pop in a stocking. Shiny and shaped like a Christmas bauble, this chic bottle will bring more than a little bit of festive cheer.
3) Plum Crinkle Leather Change Purse-Anya Hindmarch has created a fabulous line of festive change purses that look like your favorite festive treats. If your loved one likes a big purple one, they'll love the plum change purse.
4) Mark Jacobs-Uber cool, this black and white phone case is great for those who love a little geek chic.
5) Nubo Ice Glow Diamond Mask-The ultimate luxury, Nubo is on every women's wish list this Christmas.