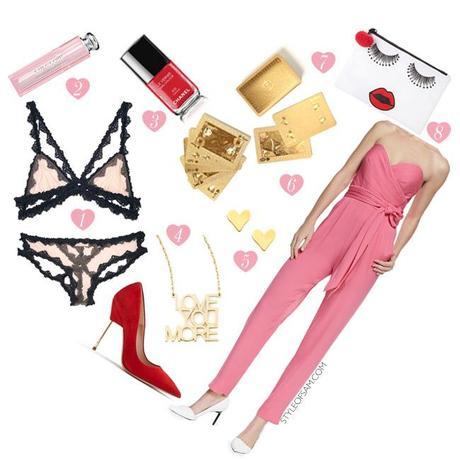 1 top & bottom // 2 // 3 // 4 // 5 // 6 // 7 // 8
Valentine's Day has always been a favorite holiday of mine… maybe because I'm kind of sappy and a romantic at heart.  I believe in happy endings ALWAYS! One of my coworkers used to end her phone conversations with her husband saying, "Love you more"!  I thought that was the sweetest thing.  This necklace was meant for her!
These are a few of my fave picks for the upcoming lovey-dovey holiday.  I think #1 will definitely heat things up in any house!  The name – lace bondage bra and panty says it all!   Those gold dipped cards would be perfect for playing a special kind of poker!  And this is the cutest idea I saw on Pinterest!  Send your loved one a "heart attack"!
On another note… I'm going to keep mentioning the Paris Fashion Week contest because I really want it to happen!  I would LOVE YOU TO THE MOON AND BACK if you would take a second to vote for me HERE on the 39nineteen facebook page.  You can vote once a day until… Valentine's Day!  xx