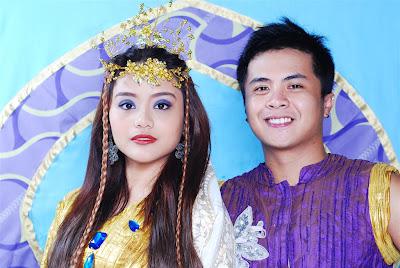 Gantimpala Theater retells the folk tale of "Ibong Adarna" in a stage production written by Ed Maranan, under the direction of Roobak Valle.
"Ibong Adarna"'s mythical story is expressed in narrative song and poetry called "corrido", and is considered a cornerstone of Philippine literature. The story is about a fabled bird that sings a total of seven songs with seven color changes, which could either enchant anyone to sleep, turn him into stone or heal a deadly sickness.
The songs of the elusive creature are the only cure to Haring Fernando's (Billy Parjan) grave illness. Thus, Reyna Valeriana (Pamela Hundana, alternating with Heidi Arima) assigns her three sons to find the magical bird and bring it home before the king of Berbania expires.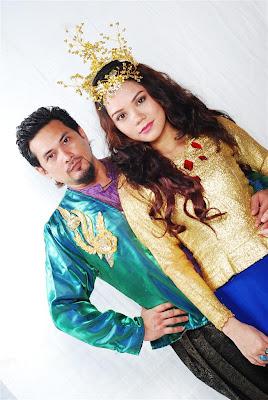 Arkin Da Silva plays Don Pedro, the eldest and heir apparent; Noel Escondo is Don Diego, the second-born; and Kristian Chua is the youngest and his parents' favorite.
The cast also includes Cris Pastor (Maria Blanca), Sharlene Rivera (Prinsesa Leonora), Vera Capiral (Prinsesa Juana), Abel Napuran (Haring Salermo)and Joey de Guzman as the Ermitanyo.
Matthew Manalaysay, contemporary ballet dancer and actor, dances the part of the Ibong Adarna.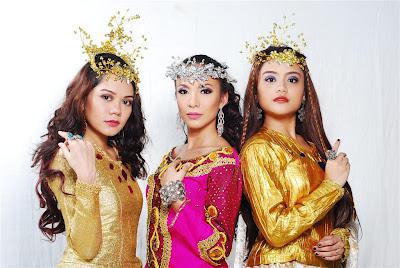 Maranan's script highlights the values found in the "corrido" such as sacrifice, faith, perseverance, forgiveness and the power of love, while director Valle sets the whole play in a Mindanao cultural community, utilizing its traditional dances to add more pageantry and energy to the play.
Also in the creative team are Andy Villareal (lighting designer), Eric Rosales (associate production designer), Ronald Santos (choreographer), Charyl de Guzman (production manager), John Paulo Garcia (assistant production manager) and Joey David (stage manager).
Remaining performances are on September 28-29, (9 a.m./12nn/3 p.m.), AFP Theater, Camp Aguinaldo, Quezon City, October 5-6, (11 a.m./2 p.m.), Cinema 3, SM Southmall, Las Piñas City and October 12-13 (9 a.m./12nn/3 p.m.), Star Theater, Star City Compound, Pasay City.
For tickets, call 9985622. Like www.facebook.com/gantimpala