After my fun but not so successful experience on Love Letter, a friend asked whether we can do it together on the same week.
As we produced so little on my first try, I immediately agreed to try out again for I know that I will never attempt this alone.  Doing with a group of friends will be totally different experience.
From waking up early to get to the market in time to get the fresh grated coconut (this stall close as early as 8am) to the finished product and washing up.  I should have just gotten the squeezed milk from the vendor instead.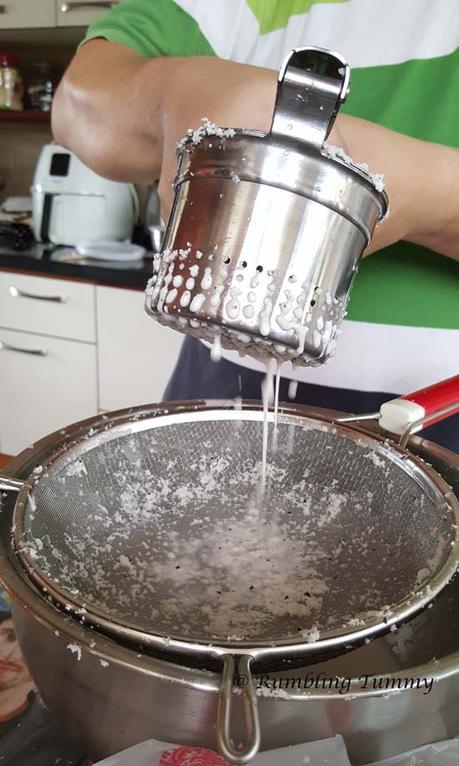 I realised that tools are so important, it is so much easier to extract coconut milk with this ricer.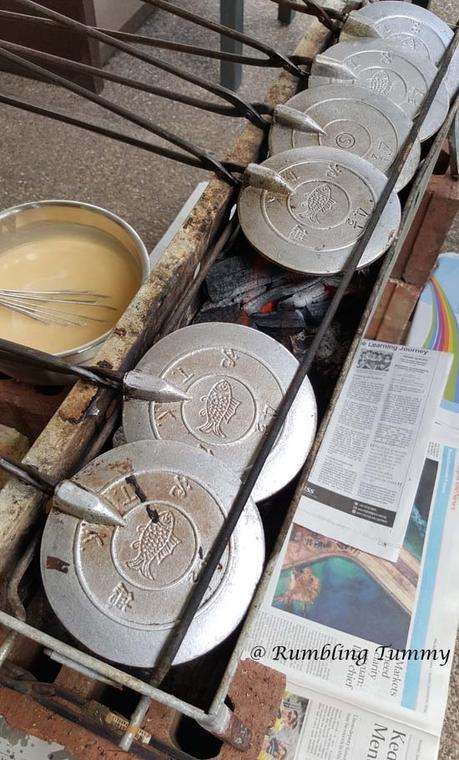 To get the charcoal burning at the right temperature requires skill.  Too hot, you burnt the cookie, at too low a temperature, it will takes forever to get it done.  Get this into a momentum and speedy is also a key factor.  If not you will drained out as it is a long process.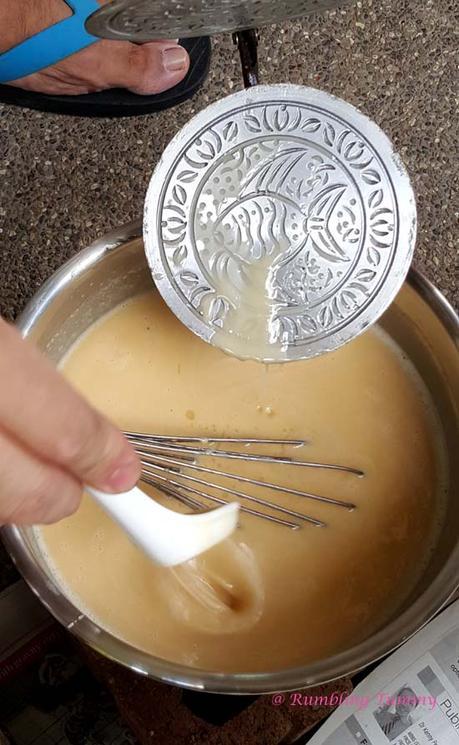 See how the batter will not adhere to the mold.  The reason is that the mold is not hot enough.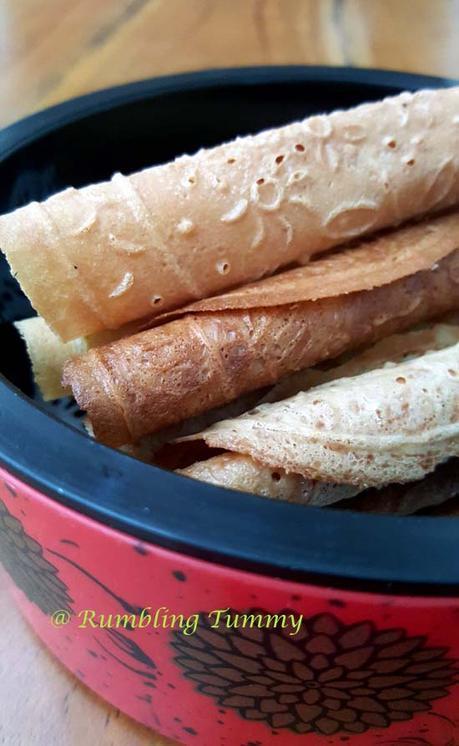 When you see these in different shade of brown, you definitely know it is home made.
Bite into these and you will feel the love embracing you.  For these cookies are definitely made with lots and lots of love.   I wonder whether this is how it came up with the name of Love letters.
The whole process lasted 15 hours!
Will I try again after getting muscle and back ache the next day?  Yes I will gladly do it again provided I do it with a group of wonderful friends.
At the end of the day, I am really glad that I introduced this dying tradition to my little girl.  She has since "master" it and hopefully like me, she will have fond memories of this experience.
Source: Travelling Foodies (hop over to his blog for a comprehensive write up)
What you need:
makes about 80 pieces
250g rice flour
50g tapioca flour
320g caster sugar
400ml fresh coconut milk, first squeeze only
1 tsp salt
10 large eggs (size A)
1 tbsp cooking oil (for greasing moulds the first time)
Method
In a mixing bowl, whisk eggs, salt and caster sugar at medium speed until the sugar dissolves.
Add fresh coconut milk and whisk for 20-30 seconds or so.
Add rice flour and tapioca flour and mix well, remembering to scrape down the sides of the mixing bowl at least once during the mixing process.
Strain the mixture over a fine-wired sieve into another mixing bowl to remove any flour lumps, unbeaten egg. Set aside while the charcoal grill is being prepared.
Heat the love letter moulds over a heated grill until hot.
Open the mold above the large bowl of batter, grease both interior sides very lightly with cooking oil and tilt to the mold side to allow excess oil to drain away. ***
Pour batter over to tilted mold and flood it with the batter once or twice to get a good uniform coat. **
Allow most of the excess batter to drain back into the mixing bowl before closing the mold and place it back on the grill.
Grill the love letter until it is nicely light golden brown. The actual grilling time depends on the temperature of the grill.
While grilling, scrape away any excess batter which had seeped out from the edges with a butter knife.
Once the love letter is of the right colour, remove quickly from the mold and either fold it into quarters or roll it into a thin cigar-like shaped cylinder.  You need to be really quick as the cookie will harden in seconds.
Leave the rolled or folded love letters to cool down to room temperature before storing in an air-tight container. Do not wait for too long or the love letters would soften with the humidity.
Repeat the process until all the batter is used up, taking note to stir and homogenise the batter in the mixing bowl thoroughly each time before pouring over a newly heated mold to prevent the flour from settling at the bottom.
*** the greasing process is only done for the first round. Subsequent rounds of love letter making with the same mold does not require greasing.
** If the mold is sufficiently hot, there will be a soft hissing or whistling sound produced as the thin coat of batter begins cook over it immediately as it is being poured over. If the batter does not cling over the tilted mold well, it is not hot enough to be used.
If you have enjoyed this post by Rumbling Tummy, be sure to follow this Rumbling Tummy on Facebook, Instagram, Pinterest, Twitter and Google+.