—— I received this book from Edelweiss and the publisher for my honest review——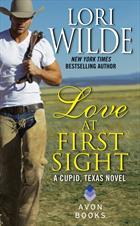 Title Love at First Sight: A Cupid, Texas Novel

Author Lori Wilde

Publisher Avon

ISBN 9781554514793

Pub Date
Feb 4 2013
Category Fiction, Adult, Romance, Contemporary
Summary:
From the author of the Twilight, Texas books comes the first in a dazzling new Cupid, Texas series. Lori Wilde welcomes us to Cupid, where every wish for love comes true…
Natalie McCleary couldn't believe her eyes-a lean-muscled, darkly tanned, nearly-naked man stood in her path…and then it hit her: love. Everyone always told her it'd hit like a thunderbolt, and she never believed them. But now she knew: practical, sensible Natalie was head over heels in love-with a stranger.
But ex-Navy SEAL Dade Vega wasn't about to be a stranger for long. He'd ridden into Cupid on his motorcycle, vowing to keep a promise he'd made to a military buddy. But a single glimpse at Natalie-soaking wet and unexpectedly tempting-changed his life forever.
But how can he offer her is love, when he can't even promise to stay in one place for longer than a week?
My Thoughts:
I really had a hard time getting into this book. And I really wanted to like it, but I ended up having to force myself to finish reading the book. I just love the idea of 'Love at First Sight', wouldn't that be wonderful to just see someone and not just lust at first sight but fall in love. Do I believe in it, yes I think I do. But I also think its pretty rare. Dade and Natalie just seemed to fight it to much for my taste. They also tended to complain about one thing or another too much, and maybe I'm sensitive to complaining do to complaining kids these days that was a pretty big turn off. Yes both Natalie and Dade had really bad things happen in their past, but I felt that fact just kept coming around way to much for my taste. I did like Cupid, Texas though and would love to read some more books that take place there.
Over All Rating: 3/5 Stars