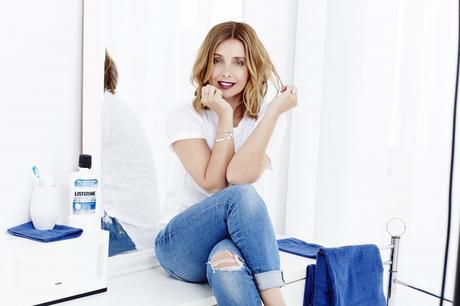 Former pop star Louise Redknapp has revealed her secret to instantly whiter teeth - changing her lipstick.
The wife of ex-England footballer Jamie Redknapp is now a TV presenter and has her own range of make-up called Wild About Beauty.
She has revealed her secret to a gleaming smile, which includes using a whitening toothpaste with Listerine's new Advance White mouthwash.
But just as important is choosing the right shade of lipstick, which can immediately give the appearance of whiter teeth.
Louise said: "I truly believe the best beauty accessory a woman can wear is her smile - its powerful and contagious.
"For me a bright, healthy smile begins with proper mouth care: brush with your favourite whitening toothpaste and finish with a swish of Listerine Advanced White mouthwash.
"Then comes the really fun part, choosing the perfect lippy to set off your smile."
The mum-of-two has picked out three lipsticks from her range at Wild About Beauty which help create a gleaming smile.
"Colours with blue undertones or a punch of high impact colour work to cancel out any yellowing which instantly makes teeth appear whiter," she said.
Louise said: "This wearable soft pink is the perfect sheer shade to compliment any make-up look. It has cooler pink undertones, to minimise yellow tinges in teeth and helps them look naturally radiant while brightening your smile."
* Fuchsia pink - Wild About Beauty Nutrilips Colour SPF in Abby
Louise said: "This statement fuchsia pink hue creates a dramatic contrast thanks to its blue undertones, which help frame the mouth and make the whiteness of teeth really stand out.
"When choosing pinks, always opt for cooler undertones and avoid shades with yellow or orange undertones as they tend to accentuate the yellow in teeth."
* Rich berry - Wild About Beauty Nutrilips Colour SPF in Ella
Louise said: "Deep colours work wonders as they reflect off your smile to really boost brightness and whiteness.
"If you're looking for a dark colour, always go for a rich berry with cool undertones, over a brown as brown hues can bring out an unwanted yellow appearance In teeth."
To Iearn more about Listerine Advanced White visit www.Iisterine.co.uk and www.youtube.oomluser/listerineuk.