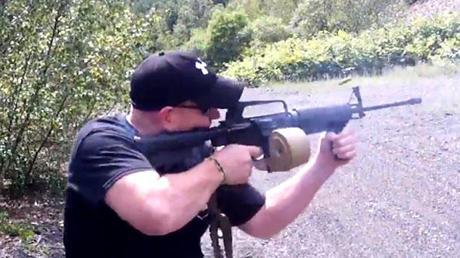 Raw Story
 (here's
the original video
)
The Pennsylvania police chief who made a profanity-laced videos while firing machine guns and ranting about liberals has been suspended without pay for 30 days.
After a 55-minute executive session, the Gilberton Borough Council voted 5-1 on Wednesday to suspend Chief Mark Kessler for using "borough property for non-borough purposes without prior borough permission" by using machine guns and other weapons in his YouTube videos. Kessler had donated the weapons to the borough earlier in the year.
In online videos posted in July, Kessler had used profanity to berate "libtards" and suggested an armed rebellion against the government.
According to WFMZ, Michael Morrill, executive director of the liberal group Keystone Progress, delivered a petition with 20,000 signatures to the council on Wednesday demanding that Kessler be fired.