Following on from Monday's post, this takes us out of Chelsea Harbour and into Lots Road itself.
I was last there in November 2008 and took the pictures that form the top row of this collection: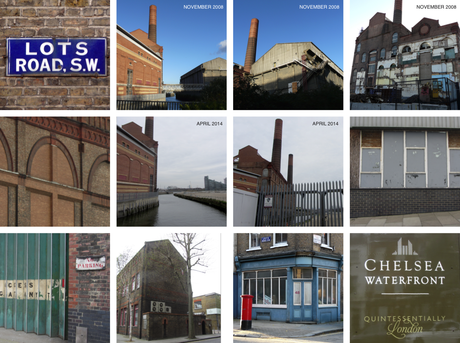 As you can see the metal silo-type building on the opposite side of Chelsea Creek (part of Counter's Creek) has gone and a vast swathe of land now stands empty waiting to be developed. It'll probably end up looking like Chelsea harbor itself, or the opposite bank in Wandsworth, or Battersea.
I just googled 'Chelsea Creek' for the link above and the first thing that came up on the list was a site saying that this is the 'newest and most fashionable dockside development, combining luxurious city living with blissful tranquility'
Aha! Very clever... what they mean here is it's like living in the city at the weekend when all the offices are closed. i.e. it's dead! Tranquil... means there's no one about (see Monday's post re Chelsea Harbour)
Since I am pulling apart estate agent speak here, what exactly is a 'luxurious' in this sense? Most homes these days have flushing toilets, running water, gas central heating etc. Some even have underfloor heating, double-glazing and en-suite bathrooms. But are these luxuries? Surely these are things you'd expect to find in an expensive box-as-home in an area such as Chelsea. Hell I have even seen the word 'luxury' on billboards for flats in North London. Does luxury vary borough to borough. Do Chelsea people get more luxury for their money? Do these homes have wall to wall cashmere carpets and sensor lighting that goes on and off when you wink? Or perhaps Chelsea apartments come complete with a butler-mum-PA who does absolutely everything... he/she cooks and feeds you, runs you bath/shower, dries you and even wipes your bum.
Anyway...
Lots Road...
There doesn't appear to have been much happening to the Lots Road power station building in the five and half years since I was there last. It's sort of the same as happened to Battersea Power Station – they say things will happen and then these buildings just sit there derelict for decades. Indeed, that patchwork wall shown top right still looks the same today. And the lovely green concertina goods gates are still intact, as is the building opposite that use to house Cremorne Works.
Further along the road I saw someone carefully renovating the little blue corner shop.
I have made a note in my diary to go back again in 2019 to check if anything has moved on.