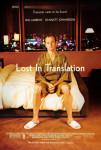 Bob Harris is a faded movie star who is in Tokyo to film a whiskey ad for the Japanese market. Staying in the same hotel is a young twenty something woman Charlotte is left on her own while her husband a photographer is working. The pair form a very unlikely bond and friendship when they really needed it the most.
⭐️⭐️⭐️⭐️⭐️
Lost in Translation is a truly outstanding film and should still be talked about all these years after its 2003 release. It picked up one Oscar for best original screenplay and was also nominated for best picture, director and actor in a leading role for Bill Murray. I must admit something though my first viewing of this film not long after its release as a 17 year old I didn't really like it. I can safely say that is because I just did not get or understand anything about it. Watching it now in my early 30s I adore every single moment in the film.
Who hasn't felt lost in translation when in a different country? Even if they also speak English in that country different accents and dialects can still cause problems. I am actually going to Tokyo myself in six weeks now so to revisit this film felt like perfect time. I am hoping the time difference and being able to sleep without insomnia is not actually going to be that bad.
Bob Harris is being paid millions to star in the whiskey advert and has travelled to Tokyo alone but has plenty of conversations with his wife on the phone and via fax. It is clear from the conversations that neither of them are happy with each other. It doesn't make any sense for her to be unhappy that he is away considering the amount of money he is getting paid. The marriage does not feel like it is filled with love anymore and they discuss how the kids are doing. Very brief phone calls and a struggle with the time difference.
Charlotte is in Tokyo with her husband John who has a job as photographer. It is not long though until he has to go into different parts of Japan and leaves her alone. She explores but is desperately lonely and one night she meets Bob in the hotel bar. They become close over the next few days and it is extremely reassuring that when you really need someone they can just show up. Loneliness is a very tough thing to manage as it is not fully clear what exactly you can do to combat against it, especially like our pair being in a different country.
The emotions are captured in the best possible way and they end up in some very strange places. Having no idea which food to order and experiencing it all together, rather than alone. A lot is always mentioned about the final scene and the whisper, which let's face it is utter genius and we can decide what Bob said to Charlotte. This is something that you could even change with different viewings of the film. The kiss as well as done in the best possible ways as nothing sexual had really been shown between the pair. Companionship was probably the best way to look at that, if you have not seen this film for a long time please watch it again.
Bill Murray is perfect as Bob and who could say at the time of filming it he was maybe not as famous himself as the years gone by? I mean that does happen quite often with these times of films. Scarlett Johansson in what was probably her breakout role in terms of performance is excellent and again its amazing to go back and see all the promise she did show in this film. They both bring out the best in each other and it really is an emotional journey.