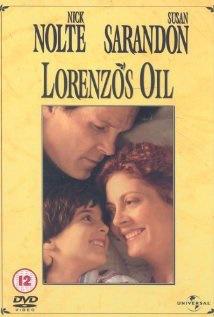 Director: George Miller
Writer: George Miller, Nick Enright (Screenplay)
Starring: Nick Nolte, Susan Sarandon, Peter Ustinov, Kathleen Wilhoite, Gerry Bamman, Margo Martindale, James Rebhorn, Ann Hearn, Maduka Steady
Plot: A boy develops a disease so rare that nobody is working on a cure, so his father decides to learn all about it and tackle the problem himself.
There may be spoilers the rest of the review
Verdict: Powerful Drama
Story: Lorenzo's Oil starts in July 1983 Comoros Islands where young boy Lorenzo is living. Move forward three months Lorenzo is back home in America but things have started to change in Lorenzo, he has started to react to everything where he causes problems. Lorenzo's parents Augusto (Nolte) and Michaela (Sarandon) start to be concerned with his behavior but when doctors say there is nothing wrong. Each doctor tells them the same thing and figure out it is not his brain but he continues to get worse showing more symptoms.
Specialist Doctor Judalon (Bamman) puts Lorenzo through the most tests over a string of days to finally figure out what is wrong, ALD is the disease that Lorenzo has and he is given just two years to live because no one has every lasted longer than that. ALD has no treatment and has never been studied which leaves the parents with the realization that they will lose their son, but not wanting to accept that they start learning about the disease. Professor Nikolais (Ustinov) has been working on a potential theory for trying to slow down the process.
As time goes by we watch how different doctors try and learn from Lorenzo and other victims but we have to see how the difficult it is for the parents and doctors alike who have to learn not only how to treat but also how to deal with the disease. Deciding not enough is being done, Augusto and Michaela take it upon themselves to try and learn about the disease to understand what they will be dealing with and look for their own potential cure.
Lorenzo's Oil is a film based on the true story that this one family suffered through. It shows how learning about new diseases isn't just something you can rush into even if it can be difficult to believe. It also shows how far medical science can help save lives if people are willing to look for a cure instead of trying to make money. On the personal battle is shows how much effort our couple put into saving their son against almost impossible odds, not just dealing with the reality of what will happen but what could have happened. This will go down as one of the powerful dramas we saw at the time but in the end we have seen many like this now. (8/10)
Actor Review
Nick Nolte: Augusto Odone the father of Lorenzo who spends his time studying to find a cure by himself to prove all the doctors wrong. Nick shows why he is always good enough to lead a film with a flawless performance here. (9/10)
Susan Sarandon: Michaela Odone mother of Lorenzo who spends the whole time fighting for the right to have her son treated while spending as much time as possible caring for him as he gets worse. Susan gives a great performance and deserved her Oscar nomination. (10/10)
Peter Ustinov: Professor Nikolais who is leading ideas on how to cure the disease but is in a very difficult situation of having to follow the procedure of testing before just jumping to conclusions. Peter gives a good performance in what would considered a difficult role. (7/10)
Support Cast: Lorenzo's Oil has a supporting cast that includes family members as well as other families who are suffering with the disease, each are dealing with it in a different way. We also have doctors who are trying to find a cure but only in the scientific way.
Director Review: George Miller – George steps away from what we are used to from him and he delivers a very powerful drama. (9/10)
Drama: Lorenzo's Oil shows how hard dealing with a disease like that is, it shows how hard it will be on the family and how hard it will make them fight for him. (10/10)
Settings: Lorenzo's Oil uses the home as the most part setting showing how crippling the disease is on the family. (9/10)
Suggestion: Lorenzo's Oil is one very good film and I do think it could be watched by all but I do think the subject matter might not appeal to everyone. (Try It)
Best Part: Fighting for the right to try something.
Worst Part: Medical protocol.
Believability: It is based on the real story. (10/10)
Chances of Tears: Good chance of some through the film. (8/10)
Chances of Sequel: No
Post Credits Scene: During credits we see children who have survived because of the oil.
Similar Too: Extraordinary Measures.
Oscar Chances: Was nominated for Best Actress and Best Screenplay.
Box Office: $7.3 Million
Budget: $30 Million
Runtime: 2 Hour 9 Minutes
Tagline: Some people make their own miracles.
Overall: This is a very powerful drama that will stick with you because the work these two did helped many other suffers of the disease.
Rating