Lorenzo Suding once again wins the title of Italian Champion. On the fast track of Sestriere the rider of the team Pila Black Arrows won the top step of the podium with a time of 3'17.22.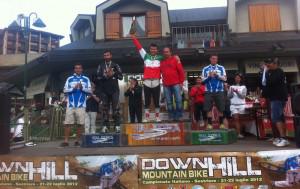 After two exciting days of competition at 'Down Tower' of Mount Fraiteve in Sestriere, with jumps up to 2345 metres above sea level, the track belonged to Lorenzo. Over 300 adrenaline junkie bikers, allied to companies scattered throughout the boot, competed at the free practice on Saturday morning to gain entry to the classification and qualification heats on Saturday afternoon. Then, with practicing complete, 13.00 on Sunday marked the deadline for the challenge to begin. At each step, the appreciative crowd cheered their favourite, their friend, son, boyfriend, or just someone who made a nice jump.
"Today (22.07.2012) in Sestriere, the mountain of Turin, I defended my title of Italian champion by winning the fourth consecutive flag ever! I won in 2009 in Collio, in 2010 all'Abeton, in 2011 and 2012 in Sestriere! Thanks to all my sponsors and friends for all the help and support that I receive. I couldn't have done it without you"
At socksupermarket.com we stock the official downhill pro calf length cycling socks as worn by Lorenzo throughout his 2012 UCI Mountain Bike & Trials World Championships World Cup quest.