Wow, we're at the midseason point already? Yeah, seasons fly by so fast!
Anyway, if you missed it earlier, this is a continuation of my previous post where I pick a few shows to watch this season and offer my thoughts on them. Last post, I showed you the shows I picked out for this season, so today I'm going to offer my opinions on the shows I've picked now that we're at the midseason point. Unlike my last post where I hadn't seen a single episode of any of the shows, now I've watched most of the episodes (to an extent) of the shows I've picked out.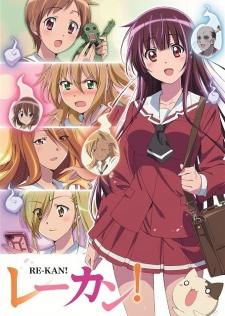 Episodes Seen: 3
Episodes Currently Available: 7
Episode Total: 13
Let's kick things off with the one show that is completely bland and forgettable!
The only joke in the series is the fact that one of the lead characters, Hibiki, can see ghosts, and another lead character, Narumi, doesn't believe in ghosts. That's really the only joke (other than a cat who's obsessed with panties) and believe me, it gets old about half way into the first episode.
In the end, the few episodes of Re-Kan! that I could force myself to sit through were about as obnoxious and unfunny as the high-pitched squeals that make up roughly 40% of the dialog in this misguided title. It could have been average, but it fell below that for me. DROPPED.
The Disappearance of Nagato Yuki-chan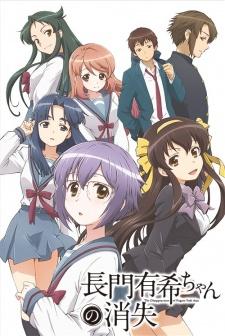 Episodes Seen: 2
Episodes Currently Available: 7
Episode Total: 16
Oh. My. God. This is… soooo… boring…
I'm not talking "generic, bland" levels of boredom here, I'm talking Endless Eight levels of boredom. Not only that, but this spinoff completely butchers the characters that have been established in the series; for instance, Kyon went from a self-conscious observer to a bumbling idiot. I'm not even that big of a fan of the Suzumiya Haruhi universe, but I'd at least like some consistency. It just seems like a fanfic.
The art is just pitiful, too. In my opinion, moe-blobs aren't really attractive to look at, especially when there exist much better looking versions of the characters. I guess it's a way to differentiate this universe from the other universe, but the dumbed-down content would have been good enough for that distinction. I've heard that the manga is better, but being a fan of the 2006 series The Melancholy of Suzumiya Haruhi and a slight fan of the Suzumiya Haruhi light novel series, I can't really see myself getting into a spinoff series that strips away everything I like about the series.
I'm going to argue that Nagato had more personality when she was a nearly mute android. This is what the Suzumiya Haruhi series would be like without any of the aspects that made it interesting in the first place. DROPPED.
Seraph of The End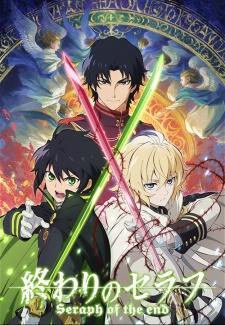 Episodes Seen: 4
Episodes Currently Available: 7
Episode Total: 12
I'm a little bit split on this one right now. It's not bad by any means, but it's just… okay. The story is nice, and the visuals are nice as well. I specifically like the backgrounds that look like they're paintings. This show just kind of lacks in a few key areas though.
First off, I'm not a big fan of the character design. That's really minor, but I thought it was worth mentioning. Second, my opinion of the main character is very mixed. He isn't very likable, but he has a fairly good backstory and motivation. Given time, I might grow to like him a bit. Third, this is another story about vampires. Nowadays, only a few stories about vampires work for me, and this one just seems dull by comparison. Maybe it's time for a completely new supernatural threat to become really popular?
That's not to say the show isn't good at all. The action scenes are nice, and some of the supporting cast is pretty good. I'd say that overall, this one's watchable, but it's not going to stand out in the long run. This'll probably be a title that most people will forget about in a year's time, but we'll just have to see how it ends.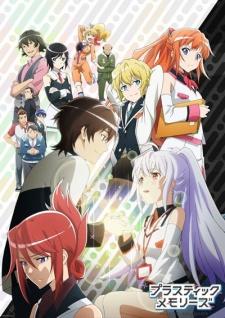 Episodes Seen: 6
Episodes Currently Available: 7
Episode Total: 13
After seeing the first episode of Plastic Memories, to say I was impressed would be an understatement. The first episode of this show was, without a doubt, absolutely beautiful. It did a great job of introducing the plot, the characters, and the technology in this not-so-distant future. There was even a moment near the end that was so touching that it made my throat a little heavy.
… but things went downhill. Fast. The second episode, and a couple of the following episodes, were mainly about the relationship between the protagonist, Tsukasa, and his "Giftia" named Isla. From there, it devolves into some sort of wacky will-they-won't-they narrative that juxtaposes Tsukasa's awkwardness (as seen through any number of his wacky overreactions) and Isla's aloofness. But once the original story is stuck to… it really works.
This is good enough to keep on watching. I mean, the good parts are really good. The plot isn't stuck to all that well, though, and that sort of bothers me. However, if there's more of a focus on the job that these people actually do, then it might turn out to be a good show overall.
Kekkai Sensen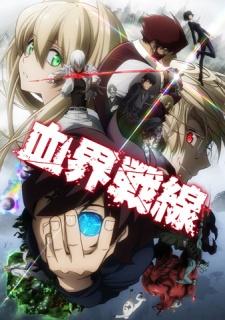 Episodes Seen: 6
Episodes Currently Available: 6
Episode Total: 12
Here's the surprise of the season; Kekkai Sensen (otherwise known as Blood Blockade Battlefront) is actually a really good show. See? I don't hate everything I take a chance on.
Anyway, Kekkai Sensen tells the story of a kid named Leonardo Watch who possesses the "all seeing eyes of God", which allows him to see things that others normally can't. Top that off with him living in an alternate version of New York City where extraterrestrial beings roam freely, and Leonardo getting involved with an organization called "Libra", and you have an interesting show. I'm still not sure how everything works in this show, but I do like how each member of Libra possesses a different power with their blood. In that sense, it's kind of like X-Men, which is pretty cool.
Kekkai Sensen was also produced by Bones, the same people responsible for some of my favorite shows, and more recently Space Dandy. As I was a big fan of Space Dandy, I could see the similar style employed here. Having a reminder that this is at least produced by the same studio who made one of the best shows of 2014 is kind of reassuring. If you haven't watched this one yet, I highly recommend it.
Ore Monogatari!!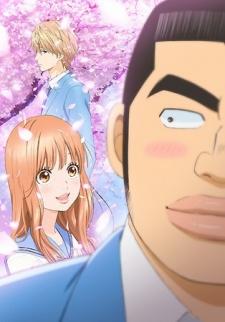 Episodes Seen: 6
Episodes Currently Available: 6
Episode Total: 24
I'm going to go ahead and quote myself here…
"Ore Monogatari!! is the show this season I'm expecting to like the most."
That was the first line of my last post in regards to Ore Monogatari!!. I bring this up only to reinforce that statement; Ore Monogatari!! is easily the show I'm liking the most this season. The story is great, the characters are great, and the plot rarely ever runs thin.
The biggest upside to the show might just be the protagonist, Takeo. This big, lumbering brute of a character is just so likable that I can't help but talk about how he essentially makes this show unique. In many other shoujo anime, the protagonist would either be "the pretty boy" or the "refined girl" who find love. Ore Monogatari!! has both of those characters, but the guy you wouldn't expect to be the protagonist of this type of show is the protagonist; the best friend who is awkward with the ladies. Everything that makes Takeo a great character, whether it his naïveté, his loyalty, or his noble attitude, helps make this show great.
Kudos to writer Kazune Kawahara for creating one of the most likeable anime protagonists I've seen in a long time, and one of the more interesting romance stories I've seen recently. There's little doubt that this'll end up being my favorite show of the season.
Food Wars: Shokugeki no Soma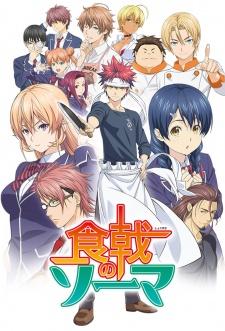 Episodes Seen: 7
Episodes Currently Available: 7
Episode Total: 24
Food Wars serves as a lesson for me, and that lesson is always give an anime a chance before judging it. At first, I really didn't like this show. The first two episodes, in my opinion, weren't even close to being good. It was just needless fanservice with some cooking elements shoved in there. Seriously! One of the first images that is seen in this show is a girl getting molested by tentacles!
That all changed at the third episode. For some reason, this is the episode that made me really like the protagonist. His cockiness and ingenuity are both aspects that make him pretty likable, not to mention the supporting cast that keeps on piling on. Sure, most of the supporting cast consists of tropes and archetypes, but they're done fairly well. Sure, a lot of the female characters has breasts that defy the laws of physics, but at least most of the have actual characters… so it's forgivable. To an extent.
I still don't care about cooking, but damned if I don't like this show. I'm just glad that the fanserrvice died down a bit. It distracts too much from the story, which thankfully there's a good one to be had here.
---
Well, that's two shows dropped. I'm surprised, though; that's only two shows I dropped! I thought I was going to hate this season. Like I said in my last post, this season looked awful, but I'm glad that the majority of the shows are turning out to be entertaining. At the very least, I found a couple of shows that have some interesting concepts and characters. That's more than I can say for some seasons in the past.
So how about you? Which shows are you watching this season? Are any of them on my list? Are there any good ones I've missed out on? I'd like to know!