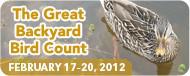 This year marks the 15th annual Great Backyard Bird Count and will take place February 17-20. The GBBC is hosted by Audubon, the Cornell Lab of Ornithology, and Bird Studies Canada. Usually, 600 birds species are tallied during the count.
In order to participate in the count, you need to bird for 15 minutes on any day of the count and enter your results at www.birdcount.org.
In 2011, more than 92,000 bird checklists were submitted by birders from the United States and Canada. The 2011 count showed increased reports of Evening Grosbeaks, a seasonal movement of winter finches farther south, and a Eurasian Collared-Dove as a state first in Alaska.
Keep in mind that you can count birds wherever your are birding, not just your backyard. For more information on The Great Backyard Bird Count, check out this link.