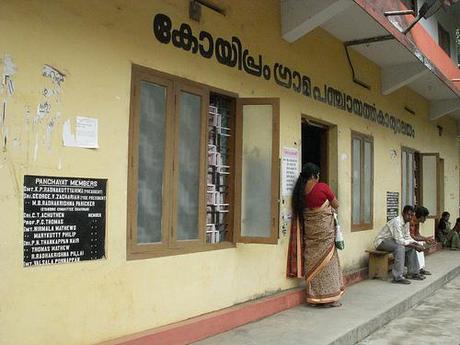 A local district council office in Kerala State, India. (Photo: Jason Diceman via Flickr)
Do you know of a well-intentioned legal framework in your country that seeks to increase accountability, achieve greater representation or encourage efficient service delivery, but lacks effective enforcement by local governments?
Are you familiar with local government practices that contradict laws on the books?
Do you know of civil society organizations, including business associations, conducting policy advocacy campaigns for ensuring effective enforcement of the laws or leading other efforts to improve local governance?
Do you have a knack for writing and for producing investigative economic journalism pieces?
If you answered yes to any of those questions and are a talented journalist or practitioner, CIPE and Global Integrity invite you to share with us your local governance stories. We are interested in stories focused on the role of both non-governmental actors and governments in promoting better enforcement of laws and regulations on the books.
Your story could describe, for example, how or why local governments fail to implement laws or regulations that reduce cumbersome business procedures, and how that under-performance affects entrepreneurs. Your story could also describe efforts by non-governmental organizations to identify public procurement practices at the city or municipal level that diverge from legal mandates, thereby increasing the risk of corruption. Your story could describe a policy advocacy campaign led by a civil society organization to ensure that laws are effectively enforced.
Local governance should be the focus of your story. It is in cities and municipalities where citizens have their first and closest interaction with government officials. Similarly, local governments tend to be responsible for the provision of services, infrastructure, quality of life, and other forms of support that both local and foreign-owned firms need to effectively participate in the market. As a result, well-governed cities and municipalities that enforce laws effectively create growth opportunities for business and geographical areas that increase productivity. Businesses that grow thanks to productivity gains stemming from well-governed local governments help create jobs and growth, while also alleviating poverty.
Your story should be no more than 1,000 words. Selected stories will be incorporated into a local governance publication that CIPE and Global Integrity are planning to publish. Authors will be compensated if their stories make it into the publication. Please contact Global Integrity's Mitul Bhat at [email protected] to find more about this call for articles on local governance and to submit your story