In the course of my day job I spend a lot of time sitting in my office or in meetings.  Every now and again I get to go on a course or attend a conference/seminar.  Sometimes if I am lucky these are in interesting places and sometimes (and I enjoy these times best of all) they are in a really interesting place that I had no idea was going to be as interesting as it turns out to be.  This is the story of such a day.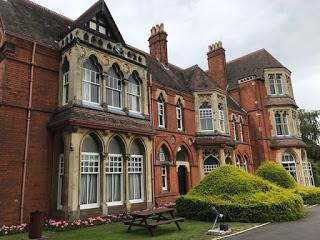 I arrived, not really knowing where I was going at all, at a magnificant gothic revival hall called Highbury, which is no where near any old football grounds as this is in Moseley, Birmingham.  I drove in, took one look at the building and thought wow! The hall was built for Joseph Chamberlain, a local Liberal MP and father of future Prime Minister, Neville Chamberlain.  It was designed by John Henry Chamberlain (no relation) who was based and worked locally.  At its height the hall had a huge conservatory and orchid houses that housed Joseph's collection of orchids.  Plants were clearly important to him.  I wandered around the house to find the conservatories but was told that they were long gone.  The house was used as a hospital in World War I and then passed to the Corporation of Birmingham before eventually belonging by Birmingham City Council.  It is now used for weddings and conferences.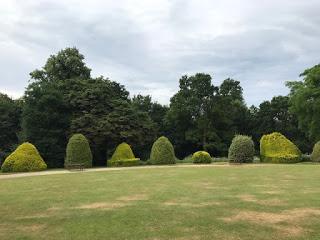 Standing on the steps you look out over some nice topiary that are clearly quite old.  They hint of faded glory.  The lawn is a bit patchy, I would suspect the lesser-spotted confetti worm has infested it as there seemed to be a lot of discarded confetti wings around.  As soon as lunch time was announced I grabbed a quick sandwich and set out to explore.  I could see from a quick bit of internet searching that the grounds are now divided into the part around the house and the larger public Highbury Park.  I wondered how far I could get in the limited time that I had.
The path led behind the topiary and I wandered through the swathes of Himalayan Balsam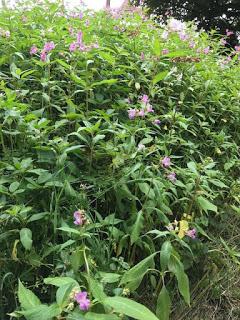 which are very beautiful and full of bees, but of course also very invasive.
and somehow I ended up in the park.  I almost felt like I was wandering into Narnia as I walked out of the dark undergrowth and into the light.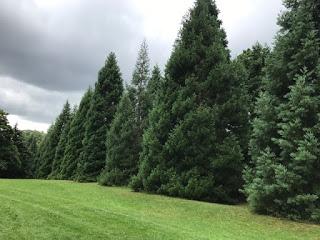 I was greeted by this dual avenue of conifers.  Now clearly much larger than when they were planted and a sign of a now lost grand plan.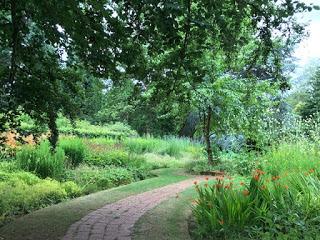 There is an Italianate Garden still intact.  It was beautifully planted.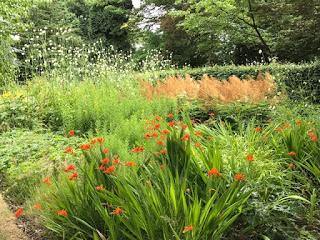 In amongst the mainly green of the park the color was vibrant and refreshing.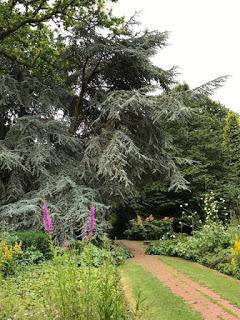 There are some magnificent trees, clearly dating from when the hall was built.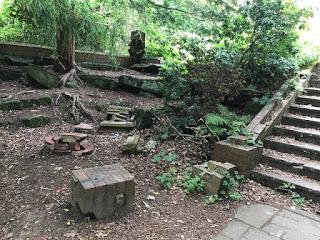 But sadly public parks often now lack funds, and the walk through the Italianate garden ends with this rather sad collapse of a now unloved feature.  I wondered how beautiful it must have looked when first built.
So this is all rather nice and I enjoyed my lunchtime explore.  There is a further bit of information about this building though, where I will have to use the word 'allegedly' as I cannot find any source to back up this story.
Allegedly Highbury is the building that the room layout of Cluedo (Clue in the USA) is based upon.  The creator of Cluedo, Anthony E Pratt, a Brummie born and bred, is alleged to have used Highbury as the board plan.  Apparently there have been Cluedo themed weddings held at the hall.

So I give you the library where Miss Scarlet is long gone, taking her rope with her.
This may be true, it might be urban legend, either way, let's not let the facts get in the way of a good story.