Is it waking up to fresh snow every morning?  What is making me yearn for the orange, reds and browns of autumn?  Shouldn't I be searching for the first signs of spring?
When I have a yearning to pick up a particular tube of paint, I don't question why I want to use that color.  I just pick up my brush and start applying it.  That's what happened this morning when I began a new painting with raw umber--a color I don't usually choose. 
Of course, I quickly moved on to burnt umber and raw sienna, applying quick, expressionst strokes.  Then I began to fill in the background, begininng at the outer edges of the canvas, covering it all with unbleached titanium.  As I got closer to the central image, I blended it with the browns.
Next, I chose Pyrole orange and cadmium yellow medium, adding highlights and blending some into the background. Finally, I picked up mars black to add some final touches.  Black is best used last or it will muddy anything you try to add after it. 
At this point I stopped.  After this painting dries, I can see what it needs next.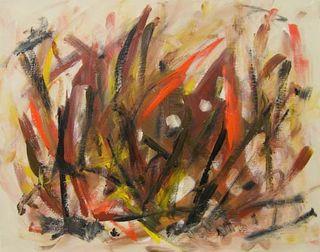 Painting #169, 20" x 16" acrylic on canvas.