November to me means the beginning of many things: the rainy season, the holidays, the  end of the year. It is always strange when it hits you that this year is almost over! Then you start to reflect on what has happened over the last year and it all seems to be a bit surreal at times! Here are the stats.
Running
: In November I ran 172.7 miles and climbed 34,108 feet. Most of my mileage was due to a couple of longer runs on the weekends as well as one race, the Quad Dipsea (QD), which has become sort of an annual tradition. The QD is a two time out and back which has about 2,500 feet of climbing for each out and each back, for a total of almost 10,000 feet. This is always held the weekend after Thanksgiving and is an excellent way to burn off those turkey calories. I also biked 41.8 miles, which brings the yearly total to 268.8 which is an average of about 5.6 miles or one round trip commute per week.
Reading
: I did not read as many books in November, most likely for a few reasons. One, my audio-book reading time goes down when I am not in the car or running alone and I did not really do much of either. For real books, I have been getting regular old hard backs from the library, which by the way never have as long of a hold period as the eBooks. However, other things in life are taking up precious reading time, so I have not been doing as much reading of the real books either. Here is the list in order of preference (audio-books in italics). I ended up reading 5 books.
The Last Days of Night****
Refugee****
Behold the Dreamers***
Let's Explore Diabetes with Owls***
The Impossible Fortress***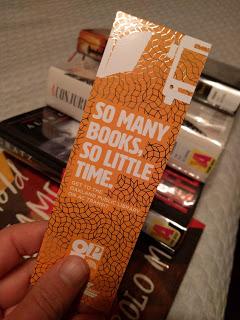 Travel
: This month I did not stray too far from home, mostly because it was the holidays and I hosted so I stayed around for that, and then I had the Quad Dipsea one weekend so I stayed around for that. Otherwise, I did a quick weekend trip to Pomona to go to the NHRA drag race finals, which were a lot of fun even though my guy did not end up winning. Also, I did go to Marin county for runs with friends and to do the annual volunteering gig with my brother, where we sweep the course of the North Face 50 mile race. After doing it for four years in a row, we finally earned a new radio handle this year. We will heretofore be known as: Menudo!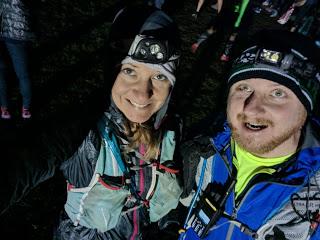 Me and the broski, North Face 50 mile sweeps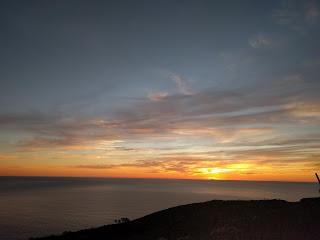 Sunset over the Farallon Islands, Marin Headlands -- NF50 sweep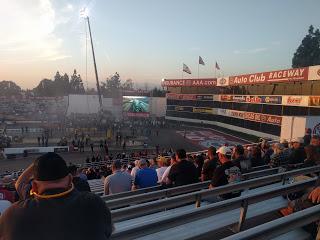 Sun setting on the Pomona Raceway. NHRA Finals.
Etc.
: The garden is dead. I was thinking of planting some winter things, but am not sure I will get to it in time (or maybe I am already to late). So now it's just raking time, although I did buy a fun toy, a leaf blower, so I will probably have some fun with that in the coming days! Although I have never really used one before... Wish me luck!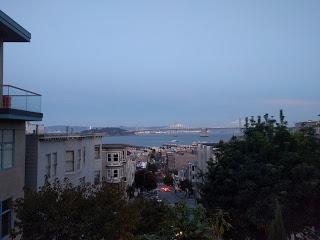 San Francisco at dusk from the Vallejo steps.
What happened to you in November? How was your Thanksgiving?