Just like that, March is gone and we are back in the month of April again. Before you know it, my birthday will be here and then summer and then baseball season will be over and then I will be on Amazon buying presents again. My year in a nutshell!! But for now, let's just focus on one month at a time.
Running:
I was still recovering from a bit of an ankle thing, and a sickness in my chest, and a general lack of enthusiasm or motivation. Thus, my running suffered. You are going to browbeat me now, because my total in March was still about
210 miles
, but it was only about 3 runs a week, which does not feel like enough, and was one 100k race (62 miles), leaving only about 130 miles to be spread out for the rest of the month. A kind of fun stat (for me) is that the miles included about 25,000 feet of climbing.
Reading
: I am back in the saddle again and I am riding hard! It's SO nice to not have to be studying anymore. Also, I do not have TV at all; we got rid of cable because we were not using it, and although we have netflix, I rarely use it either. I have been hoarding books on the hold shelf at the library like it's going out of style. In March I read 7 books and most of them were pretty darn good! Here they are, listed by order of favorite to not as favorite. The three that surprised me most were: The Nightingale, which I had no idea what it was about going in, but it turns out to be a crafty novel about hardship and bravery of women during WWII, The Martian, a story about a man trapped on Mars, who struggles to figure out how to survive until the next mission arrives in 4 years time, and Landline, by an author who I normally like. This book just did not do it for me!
The Nightingale (5 stars)
The Martian (4 stars)
Allegiant (3 stars)
Travels in a Thin Country (3 stars)
Names on a Map (3 stars)
The Vacationers  (2 stars)
Landline (2 stars)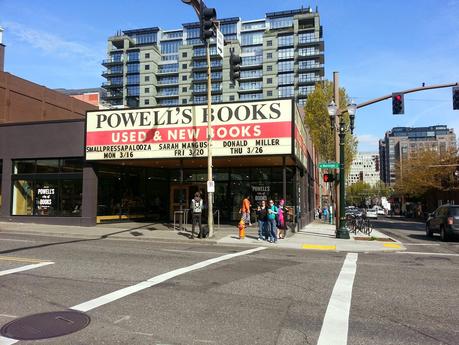 Powell's - Portland, OR
Travel:
Yes, even with a bum ankle and a chest cold, I got around okay. In March I traveled locally a bit, going to Auburn/Cool to watch some friends at a race, and to Sonoma county for a run and a chat and some dance party USA at my brother's house. At the end of the month, I had a great trip to Portland, which will have to be recapped at some point! The Cliff Notes: I drank good coffee and beer, looked at books, walked a lot and raced among the Pacific NW greenery. It was great!
Tell me:
What was the best book you have read lately? Where is your favorite local place to travel to for the weekend?