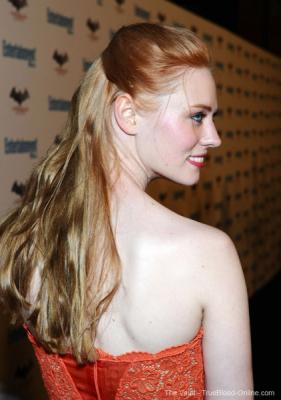 Deborah Ann Woll was recently interviewed by nzherald.co.nz; she tells about her love for acting, True Blood and onscreen nudity.
"As far as the sexual element of the storyline, I'm pretty much game," she says.
Her character, embroiled in love triangle with Hoyt (Jim Parrack) and Jason (Ryan Kwanten) finds her in some intimate situations.
"I have no problem with those scenes. I love seeing naked people, but the interesting thing to me about nudity in acting versus pornography, is context. It's important that there is nudity for a reason. Hopefully, it says something even if it's just that these two people are comfortable with each other to be that naked and vulnerable with one another."
As to the circumstances of being naked, she's evidently given the subject a lot of thought.
"I am more wary of doing nudity on film because anyone can take that out of context and use it in a way I never intended. So, while I love sexuality and I love nudity, and I certainly don't have any judgment about people who chose to do it, but for me, I'm careful about how and when I choose to be nude on film. It's different than I would [feel] if I were doing a stage production."
Deborah is clearly comfortable in her own skin, but she is not much of a gym person though and is not following the Hollywood trend of "the thinner the better", which we can only applaud.
"I don't like to work out much, although I do enough to stay healthy," she says. "But I would like to be able to play any kind of person, not just a person with a perfect physique. And also, I don't really have the patience to stay in a gym for six hours a day because looking attractive is not at the forefront of my mind. I've got other things I'd rather do. I got into acting for the art of it and if people decide that my body is not good enough to be on film, I'll go back to theater."
Read the complete interview at the source.