Well, so much for that Miu Miu collage! The odds of that aren't in my favor. (Yes, I've been reading The Hunger Games.)

Friday's shoe was the classic black pump with rhinestone floral motif from England between 1960 and 1962.
This weekend's shoe is the reptile "Floating Tongue" thong sandal with modified wedge by Jan Jansen in 2010.
The weather is extremely depressing lately because of Hurricane Irene. It was expected to "slam into Canada" (not my words) by today. As a result, it's raining and very windy and the lights have been flickering for a few hours. 
I came across Lookbook Cookbook from one of FASHION's email updates. I find it pretty interesting, what with all the recipes for delicious-looking sweets with different, healthier ingredients.
In an attempt to finish off what has been a perfect summer, I soaked in all 22 episodes of Gossip Girl's 4th season.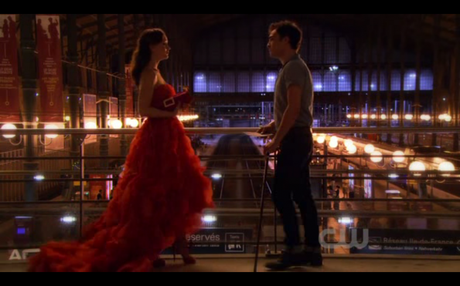 Dress by Oscar de la Renta.
Of course it ended with the worst cliffhanger possible: a positive pregnancy test in the bathroom Serena and Blair share. Does it belong to Ben or Chuck or Louis?  Personally, I'd love to see a mini-Bass.

XOXO,
Nina