Looking for an Unbiased Looka Review2022, Don't Worry, I got you covered.
It's no secret that machines have dominated the world of the industry for a long period. However, we never anticipated their seizing control of even the realm of design at this early stage.
In sum, welcome to the age of artificial intelligence-assisted design! And, more precisely, welcome aboard as we throw out the red carpet for logo makers powered by artificial intelligence.
Currently, Looka is one of the few that is attracting interest not only among designers but also among internet companies and digital marketers. And, it seems, for a good reason.
As you can see, it may first seem to be a standard logo creator. However, this could not be farther from the truth. A machine learning engine powers its complete logo creation system. That is the one feature that distinguishes it from the majority of other design applications.
However, how wonderful is it? Can you trust Looka to create an eye-catching logo for your business?
Sustain with me as we dissect every crucial aspect of the platform. This Looka review delves deep into its fundamental artificial intelligence base to uncover how it works, its overall usefulness, and any possible flaws.
Looka (formerly Logojoy) is the brainchild of Dawson Whitfield, the company's founder, and CEO.
Whitfield became bored of the client chase after a decade in logo design, preferring instead to be able to deliver answers to millions of consumers whenever they needed them.
He and his colleagues used artificial intelligence to improve the logo design process, making it as simple as possible.

And they have a tangible result to show for their efforts: Since its inception, Looka has assisted over 5 million individuals in 188 countries in creating upwards of 10 billion logos.
Looka offers to assist users in creating aesthetically attractive logos in five minutes or less with only a few clicks. We'll tell you if the platform lives up to its promise or whether you should go elsewhere for your logo design requirements in our review.
How Does Looka Work?
To begin, Looka presents you with a variety of logo designs, colors, and icons from which you may choose your favorites, which they will use as inspiration while creating your logo possibilities.
Following that, you'll be offered a variety of color palettes from which to choose. Looka will create your logo using this color palette.
The next step will need you to provide further information about your firm, including your company name and slogan. This enables Looka to have a deeper understanding of your organization and may influence the final logo design selections.
To proceed, you may search for up to five icons that represent your business. This is a completely optional step, but one that is necessary if you want to create a logo that incorporates an icon. They have hundreds, if not thousands, of distinct icons to pick from, so there is likely to be one that reflects your company.
Finally, Looka generates an infinite number of possibilities based on your preferred preferences and entered data, which you can subsequently tweak and change as required. One of the primary benefits of using Looka is that they generate an infinite number of different logos for you to choose from, rather than just one or two, as a logo designer does, so you can get a good sense of your options and see different arrangements and pairings that you might not have considered otherwise.
From here, you may edit any of the logos or see them superimposed on photos of t-shirts, signage, stationery, and social profile photographs to get a sense of how your brand will appear in the real world. When you're satisfied, buy your preferred logo! There are three distinct price packages available, each with its own set of choices, which we describe in further detail in the "Pricing" part of this page.
If none of the logos match your expectations, resume the process and tweak your options to assist Looka's logo generator in creating a logo that is more indicative of your preferences. Another benefit of utilizing Looka's logo generator is that there is no limit to the number of times you may restart the logo creation process, which means you can recreate it as many times as necessary!
Looka is the perfect solution for entrepreneurs looking to develop a visually appealing and useful logo for their company without incurring the high cost of employing a logo designer.
Because Looka is an online logo generator, it is a far more cost-effective approach to create a logo for your company while still producing a high-quality logo in the same manner that a designer would.
Looka enables you to bypass the middleman - you are the expert on your business, so rather than working with a designer who may not understand it as well as you do, communicate your vision directly to Looka's artificial intelligence technology and then edit the logo to create the logo that truly represents your brand.
Looka is a must-have for every eCommerce company, regardless of whether you're selling real things, digital goods, or even just building a simple landing page.
A logo lends a professional air to anything you're doing, and Looka can assist you in creating one instantaneously that's inexpensive, high-quality, and practical for any situation.
Looka is an online logo generator that leverages powerful artificial intelligence technology to design stunning and distinctive logos in an instant.
Looka provides you complete control over the corporate logo design process by providing you with all the tools necessary to create your logo and guiding you through the process of integrating all the aspects of logo design smoothly to meet your vision - you don't need any design training!
What differentiates them from other online logo generators is their increased selection of professional fonts, icons, and images, which enables you to produce an accurate depiction of your company.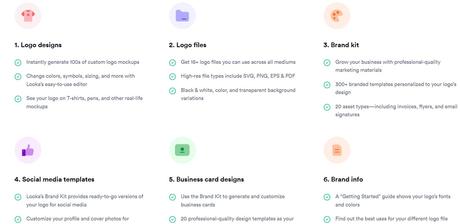 They think that creating a logo should be simple, enjoyable, quick, and economical, which their online service does.
Each of their designs is unique - they never reuse pre-designed templates for various clients - and their artificial intelligence system assembles unique "ingredients" for each logo depending on your choices, allowing you to quickly create a personalized logo.
One of the advantages of software with a particular purpose and limits is that it will never be too complicated.
You enter the name of your logo, click a few well-defined buttons, and Looka provides you with some logos. You'd have tougher trouble getting coffee at a coffee shop where everything is named in Italian.
The idea is that Looka is simple to use, even if this is your first time using one of these sites. The Wizard asks pertinent questions, but not too often. While the editor is generally intuitive to use, several tools, such as the sophisticated color picker, are not as well labeled as they should be.
If you make a mistake, there is a powerful and handy "undo" tool, as well as a straightforward "history" panel that tracks your logo revisions. Furthermore, you do not need to register to test out the whole system. Additionally...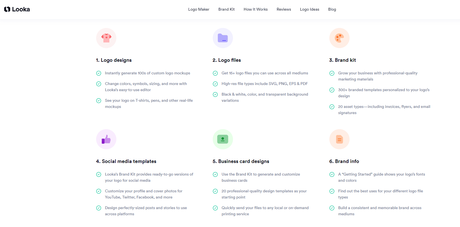 I am quite passionate about this, which is why I take the time to discuss it in each review. This is a critical trait, that Looka has.
Indeed, it makes it simple to save variants of your logo as you work on/refine it, which is a handy tool if you're as finicky as I am.
If you're having trouble deciding what you want, the editor includes a screen with design ideas and sample logos for you to peruse.
The editor is meant to promote experimentation, and if you're not satisfied with what you've created so far, you may click an alternative logo design to alter almost everything about your current logo.
Thus, there is a knowledge base, which may be accessed through the little "Help" box located in the bottom-right corner of each page and screen. While there is a Help Center (more on that later), you may get solutions to the most often asked queries and issues without leaving the editor.
Major Features and Benefits of Looka
Here are the features of Looka:
1. Lifetime Technical Support:
Even after you've completed the purchase and download of your logos, Looka will continue to support you. It includes unlimited technical support to help you with any issues that arise along the road.
As a result, contacting Looka's support staff years after downloading your logo kit is perfectly fine. They'll proceed to assist you with your logo in the same way that any other user would.
2. Social Media Kit:
Social media marketing efforts for digital brands are inextricably linked to them. Thus, to spare you the time and effort of re-editing your logo, Looka delivers a comprehensive social media kit that includes all the logo variations you'll need over time.
When it comes to Facebook, for example, the system provides pre-sized logo images that are compatible with both ad banners and corporate profiles.
And the same is true for all other prominent social media networks, such as Etsy, YouTube, and Twitter.
Looka has created a variety of logo files for each of them. This ultimately aids in the maintenance of a consistent brand image across all social media channels.
3. Vector File Options:
Given that you may sometimes need to resize your logo, Looka provides logo downloads in a variety of vector file formats. EPS and SVG, for example, are two especially exceptional vector formats in this regard.
As a result, Looka provides both of these in addition to additional file formats to enable you to alter the size of your logo without sacrificing quality.
In other words, you should be able to employ bigger copies of your logo without jeopardizing its pixel count.
4. Color Varieties:
Let us be honest. You cannot possibly use the original hue of a logo consistently. It is usually prudent to replicate a logo in many colors to ensure that it blends in with a range of backdrops. That is what Looka does with your logo.
It complements the original design with extra color variations for a smooth and straightforward branding approach.
In essence, you'll get a version with a transparent backdrop, as well as white and black versions over the original hue.
Following that, you may use the white and black variants to brand tangible marketing things, the transparent version for your website and products, and the official colored version for posters and business cards.
5. Branding Resources:
If you go through the customizing step, you'll realize that buying a Looka plan enables you to do much more than a simple logo.
Now, recall that the primary objective of logo development is branding? Looka, on the other hand, seems to take this quite seriously, since it enables you to download a supplemental branding guide in addition to the logo.
This document contains all of the necessary information on the colors and typefaces used in your logo. As a result, you will have no difficulty replicating the logo repeatedly as part of your branding process.
6. Unlimited Mockups:
Looka's system seems to be implacable. Typically, it creates an infinite number of design mockups to assist you in finding the ideal logo for your organization. This is why each page refresh results in a new set of alternatives.
Then guess what happens? This is not the end of it. Looka enables you to alter and save as many logos as you want.
Having said that, do not anticipate a shortage of logo designs very soon. You can be certain that will never happen.
While Looka is not free in principle, you may experiment with the logo-creation tools and design a logo for free.
However, you must pay to download your project. Regardless, it's an excellent approach to completely evaluate it.
If you want to continue using Looka, we suggest subscribing to one of the Brand Kit membership plans. Unless you need it for a single project, in which case a Looka Logo Package will sufficient.

1. Basic Logo Package:
This one-time purchase includes just a single low-resolution logo. Even yet, this Looka bundle is just $ 20, which is a fairly decent offer.
2. Premium Logo Package
For $ 65, you get many high-resolution file formats of your logo. Even better, you may alter the logo as often as you like, retain complete control of it, and get lifelong technical assistance.
Given that Looka is not a photography application but a basic vector graphics software, it's remarkable what this package can do.
3. Brand Kit Subscription:
This is where the more sophisticated features are located. Additionally, you can use the Brand Kit to create images for your social media accounts, posters, and flyers, among other things.
The best part is that you retain ownership of the logo even after your membership expires. This Looka package costs just $ 96 per year.
4. Brand Kit Web Subscription:
The most comprehensive proposal includes the aforementioned website draft. However, the price jumps to $ 192 per year.
Looka is already one of the most affordable graphic design tools, but the discount makes it enticing.
Why Do I Recommend Looka?
Look I made branding kit for my blog easily with Looka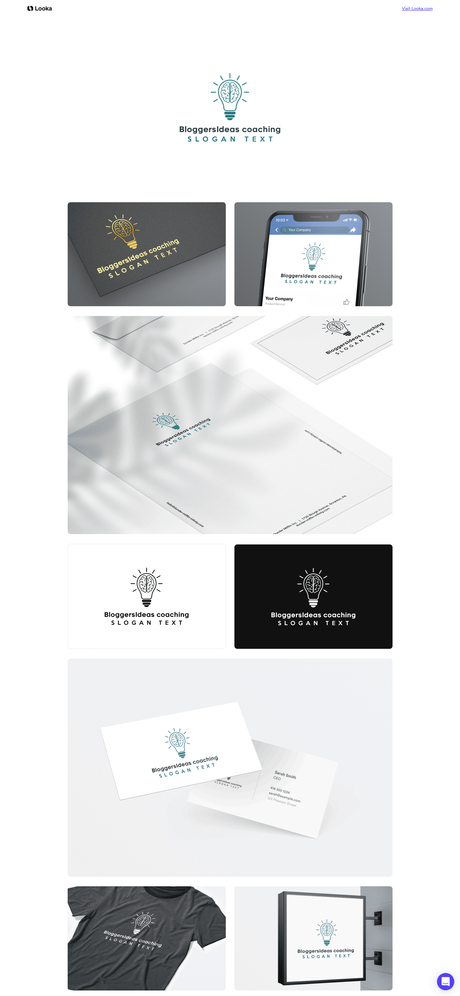 Here are 9 reasons to choose looka:
1. Endless Mockups:
Looka's generator generates an infinite number of mockups, allowing you to examine and alter as many logo concepts as you want for free.
Once you've designed a logo, just scroll down the page to see updated logo mockups. This way, you'll never run out of logo ideas and have a better chance of finding one (or many!) that you like.
2. Guaranteed Unique
Looka does not utilize pre-designed logo templates that they change for each client - each logo is created by their artificial intelligence technology using their vast collection of design elements to generate a logo that suits your tastes.
Each logo developed by the Looka logo generator is unique and fresh, ensuring that your firm is the only one with it.
3. Lifetime Phone Support:
Because technology does not always operate the way we want it to, whether you're having difficulty accessing your logo design files, need assistance refining your designs, or are just starting started, Looka offers lifelong phone support to assist you in creating or using your logo the way you want.
4. Full Copyright Ownership:
When you buy a logo from Looka, you have full copyright ownership, allowing you to use it for commercial or non-commercial reasons. This is a critical asset to have as a company.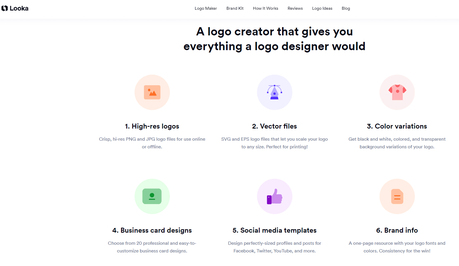 5. Social Media Kit:
The social media package is an invaluable resource since it includes over 40 various sizes of your logo that are ready to use as profile and banner photos on Facebook, Twitter, YouTube, Etsy, and more.
With this kit, you won't have to spend time scaling your logo to match the various profile image proportions of each social site, which helps you keep consistency across all of your social platforms.
6. Brand Guidelines:
When you buy your logo, you'll get a downloadable file that describes the fonts and colors used to create it, allowing you to keep consistency across your website and other branding.
This way, you'll never forget the name of your font or the precise HEX digits for your trademark color - you'll always have the information at your fingertips.
7. Color Options:
Your logo is available in a variety of colors and translucent backgrounds, as well as black and white, ensuring that it is suitable for every occasion.
Use the colorful version for business cards and signs, the transparent version for your website and goods, and the black and white version for marketing materials. You've covered all of your bases.
8. Vector Files:
Their logos are accessible in SVG and EPS formats, allowing you to scale your logo to any size without it pixelating. This function enables you to utilize your logo in a variety of ways, including on signs and in print. Wherever your logo is required to represent your firm, it will not limit you.
9. High-Resolution Logos:
Looka gives you high-quality, ready-to-use PNG files for usage on websites, presentations, and more, ensuring that your logo looks great regardless of where it is used.
Looka Pros and Cons
Here are the pros & cons:
Looka Pros
Take complete control of your logo and use it for whatever reason you like
Receive a social media package with your logo's 40+ precisely sized social media photos.
Receive a comprehensive branding package that includes the typeface and colors used in your logo.
Receive high-resolution and vector files for your logo in both color and black-and-white.
Looka's logos are all one-of-a-kind; there are no pre-designed templates.
Numerous logo concepts have been prepared for you to pick from.
Pricing choices that are affordable for both small and large enterprises
Create your logo for free and only pay for it if you love it.
Have complete control over the process of logo creation
Instantly create a high-quality logo
Looka Cons
You will not have the same one-on-one interaction as you would with a designer.
FAQs Related To Looka Review:
Quickl Links:
Taken together, the primary reason they built Looka was to eliminate the middleman. That is correct. In a nutshell, Looka eliminates the need for traditional logo designers by empowering you to develop your own.
Therefore, Looka is certainly worth investigating if you're weary of the hassles and headaches associated with working with graphic designers.
This solution seems to be not only more affordable but also much quicker than employing traditional graphic artists. Additionally, its AI engine is very accurate at reading our brains and determining the relevant business requirements.