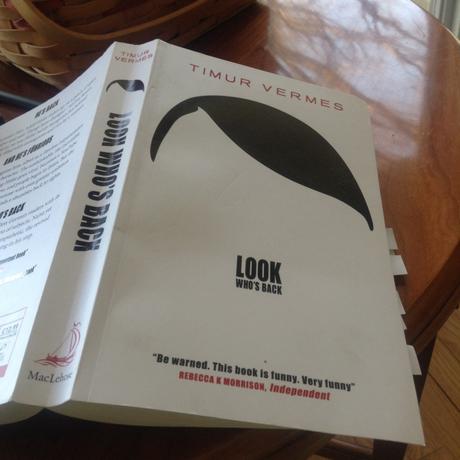 He never claims to be anyone other than who he was, and yet this time the German Volk see Adolfo Hitler as a comedian. How is it possible that a man as evil as Hitler is now perceived as funny?
I approached this book with profound trepidation. And yet I was immediately drawn in, for Vermes is not making light of Hitler. He is utterly scorning the 21st century, particularly the media. From radio to television, newspaper to YouTube, his sarcasm lays the game completely bare.
I was reported to be dead. They said I had committed suicide...Was I dead? We all know, of course, what to make of our newspapers. The deaf man writes down what the blind man has told him, the village idiot edits it, and their colleagues in the other press houses copy it. Each story is doused afresh with the same stagnant infusion of lies so that the "splendid" brew can then be served up to a clueless Volk. (p. 26-7)
No, in Vermes' novel Hitler is not dead. He has reappeared as the Reich Chancellor in Berlin, in his full uniform, and is promptly introduced by a man in the newspaper kiosk whom he has befriended to two gentlemen from a production company. Joachim Sensenbrink and Frank Sawatzki help orchestrate Hitler's extraordinary reception by the German people who refuse to believe he is who he says he is.
Didn't this happen once before?
Look Who's Back is an unflinchingly honest look at Hitler, at people, at media, at our culture today. It is surprisingly funny, if one has the courage to laugh at one's self, while at the same time cringing from the truth presented without any facade whatsoever. I am refreshed by the audacity and clear perspective that Vermes has used in pointing out to us what we should already know. I think it is a very courageous novel.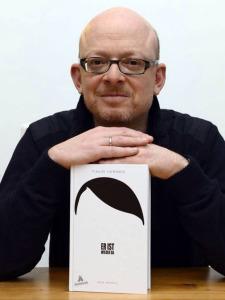 Timur Vermes was born in Nuremberg in 1967, the son of a German mother and a Hungarian father who fled the country in 1956. He studied history and politics and went on to become a journalist. He has written for the Abendzietung and the Cologne Express and worked for various magazines. He has ghostwritten several books since 2007. This is his first novel.
Jamie Bulloch is the translator of novels by Daniel Glattauer, Katharina Hagena, Paulus Hochgatterer, Birgit Vanderbeke, Daniele Krien and Alissa Walser.
Look Who's Back stunned and thrilled 1.5 million German readers with its fearless approach to the most taboo of subjects. Naive yet insightful, repellent yet strangely sympathetic, the revived Hitler unquestionably has a spring in his step. (Back cover)