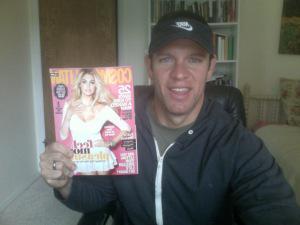 PAGE 178, FOR YOU COSMO ENTHUSIASTS!
It's true, apparently I've made it big time.  No, I'm not one of the hot dudes with his shirt off giving smoky looks of lust.  In fact, there is no picture of me at all (at least not yet), only my name.  One of the writers from Cosmopolitan Magazine reads my blog and she was doing a story on date rape drugs so she called me up to ask if I'd had any experiences with them.  I have.  Two times.  The article only touches on the two incidences briefly, but the one where the guy who gives me $30 to put a roofie in a girl's drink will be one of the stories in my book, Wasted!, which is coming out sometime in early 2013.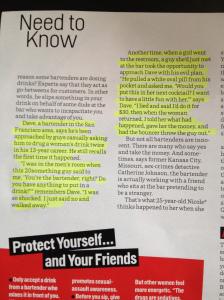 Yep, that's me.  Cosmo even highlighted the part that features me because they must have felt it was the most important part of the article.  I swear I had nothing to do with that.  Nothing at all.  Nope.  Didn't grab a highlighter and do that myself.  No way, Jose.
Once you've finished reading my inspiring, unforgettable quotes, there's an excellent article in the back on giving the proper handjob.  Up and down, ladies, it's not a bottle cap.  No twisting.
Cheers, until next time.
The RB