Are you just beginning your fashion journey? Do you want to look better and feel at home in your clothes? If so, you're in the right place.
At Attire Club, we always discuss the ins and outs of fashion, talking about everything from creating proportions to choosing colors.
However, we know that many men, regardless of their age, job or other factors don't really even know where to start with fashion.
In this sense, we have written a quick and compact guide which can be used as a checklist regarding the first few steps on the style road.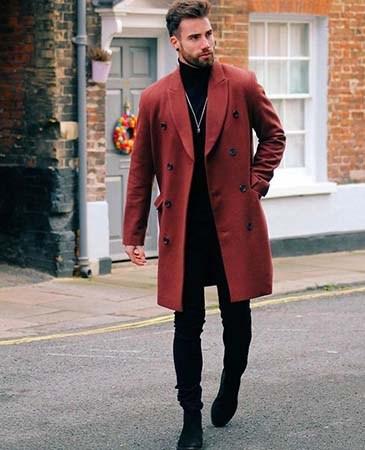 It is said that fashion is what is 'out there' and style is your interpretation of it. In other words, style is the way in which you use fashion. However, in order to discover your style, it is important to be able to define who you are and what you want to convey through your look. The fact of the matter is that the clothes and accessories we wear shape the way in which others see us, but they also shape the way in which we see ourselves.
So, if you want to be and feel like a businessman, you should probably dress like one. If you want to be a DJ, you should adapt your look for that. To learn how someone dresses, you should look for inspiration everywhere: look at the type of person you are or want to be as he is represented everywhere around you and see what the common traits are. Watch movies, flip through magazines and check out videos of your style icons. This may sound a bit redundant at first, but if you immerse yourself enough in something, you will start to be the part too!
An essential thing in fashion is to be occasion-appropriate. This basically means that every context and setting requires a certain dress code, may it be implicit or explicit.
What is important to know is that any look can be adapted to any context. So, even if you are a guy who always likes to dress in a military style, there is still a way to dress for a special occasion. In such a situation, you could go for a suit that has a hint of military elements in it, such as a rugged construction, a dark green hue or details such as epaulettes. You can also use accessories to express yourself, to which we will get in a moment.
The important thing to remember is that you don't want to be a caricature of yourself. The way you would dress for an Odia matrimony ceremony or a Hindi matrimony differs from what you would wear at a sporting event or when you yourself are working out. The key is to learn not to be afraid to switch it up and to always try to visualize what you would wear in a certain setting.
In fashion, fit is the most important thing. Many people wear baggy clothes or garments that are too small for them. Some don't realize it, while others try to create an illusion. The secret is that wearing clothes that fit is the best way to go and the best "illusion".
Firstly, if you are not sure how your clothes should fit, you can think of it this way: a garment is supposed to frame your body. For example, the shoulder lines of a well-tailored shirt should match your shoulder lines; they should not be longer or shorter. The same goes for pants, blazers and everything else.
And, to address the illusion issue - wearing clothes that don't fit usually makes one look disproportioned. For example, if you are wearing clothes that are bigger than your size to appear bigger, you will look smaller in contrast with the clothes; on the other hand, if you are wearing clothes that are smaller than your size to appear bigger, you will look strangled in them and thus, quite disproportioned.
Often, we can't get the exact clothes we want and thus feel betrayed by our fashion. To solve this, one can always turn to accessories. Generally speaking, accessories are small details that can set the vibe of an entire outfit. A tie that speaks about who you are, a pair of cufflinks or a nice watch are great ways of feeling more like yourself and letting others know who you are as well.
Many guys think that there are no right accessories for them, but they're quite wrong - if you look for cool things long enough, you'll find everything from classic British plaid clothes to superhero bracelets.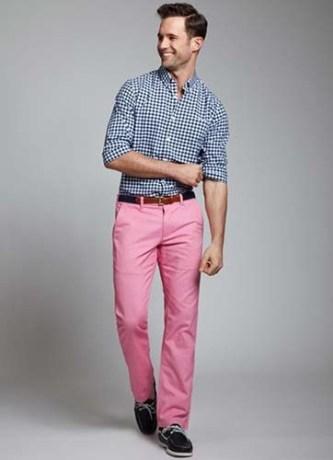 Generally speaking, men wear far less colors than women. However, truth be told, everyone could use more colorful clothes in their wardrobes. Every once in a while, we recommend that you analyze your closet and see if there is a color stream present or not. Many men will find that they wear almost only neutrals (beige, brown, khaki, gray, dark blue, etc.). To solve this, you should simply make the conscious decision of purchasing something that is more vibrant. As usually, you should stay true to yourself, but adding a few pops of color in your wardrobe can make you feel more dynamic.
Additional information:
Maintenance. Clothes and accessories will look their best on you if you make sure to maintain them properly. Wash them as indicated on their labels, dry clean them when necessary and always make sure to polish your shoes. This may sound as a bit of hard work, but in the long run, you will be able to enjoy your dear clothes more and save a good amount of money, as you won't always have to spend on new clothes.
Grooming. Buying quality clothes is not enough to have great style. Even if you wear the most high-end clothes in the world, if you are not well groomed, the image won't be complete. In this sense, always make sure to keep your hair in order, trim your nails and beard and to make sure you take good care of your skin with moisturizers and the occasional scrub.
Posture. Clothes look better on confident people. So, pull up that chin and throwback those shoulders! It's time to start acting confident!
Last, but certainly not least, it is always important to remember to toss out old clothes that no longer fit you or which simply don't look good anymore. Sometimes, we feel connected to our clothes but, if you really want to keep an old piece, you can have it framed by a professional and hang it on a wall. Seriously.
In conclusion, it can be said that taking even small steps such as including some colors in your wardrobe or polishing your shoes, you can take your style to a different level. Practice makes perfect and taking it little by little will take you further than you'd think in very little time.
Fraquoh and Franchomme
P.S. We want to hear from you! How do you define your style? Do you wear accessories? How often do you shop for new clothes? Share your feedback, questions or thoughts in the comments below! For more articles on style, fashion tips and cultural insights, you can subscribe to Attire Club via e-mail or follow us on Facebook, Twitter or Instagram!