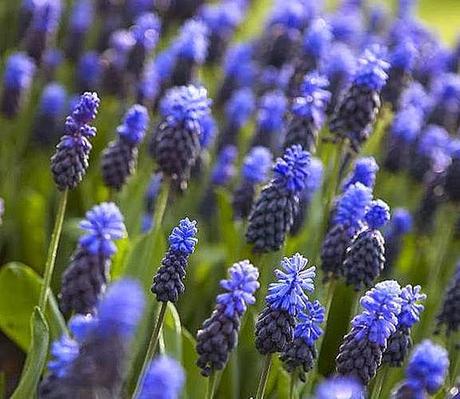 Is there anything prettier than a drift of Grape Hyacinth in early springtime? I just love that luscious blue...
In spite of all this rain, the soil is dry as a bone. I just couldn't believe that, when I was out there digging holes in the lawn today.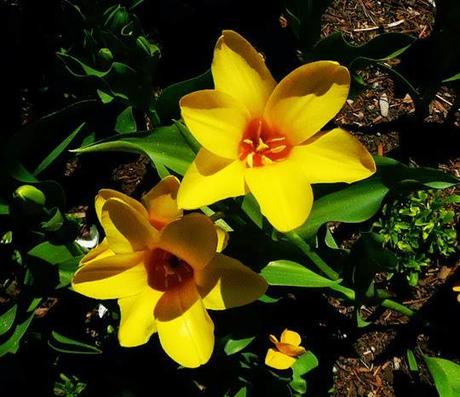 Now why would I be digging holes in the lawn?
To naturalize bulbs into the grass, silly. Check out this cool video from Longfield Gardens. That's what gave me the idea.
So, I'm out there a-diggin' and, a-plantin' and I'm just amazed that I can dig 6 inches down into the soil and it is still dry. Boy are my flowers tough! To keep blooming when there is not a drink to be had.
But, it did start to rain on me. A light, quiet sprinkle, turning foul rather quickly. I was pretty soaked by the time the bulb-planting mission was accomplished. And, I suppose I deserved that.
Seeing as how these bulbs weren't mine to be planted.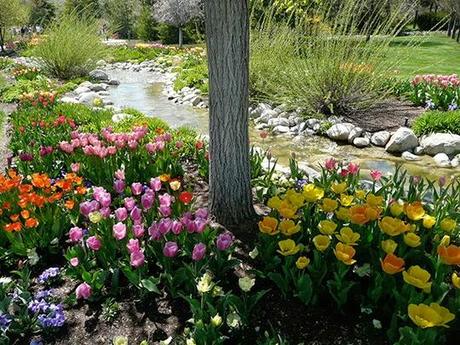 My favorite place on the planet ~ Thanksgiving Point Tulip Festival
Ever seen the movie, Despicable Me? It's very cute! I was nicknaming myself one and the same, while I was out there planting. Inspired by a surprise box from Longfield Gardens that I discovered on my doorstep yesterday evening. Delivered, Fed Ex, to Despicable Me.
I'd forgotten all about this! Longfield Gardens, wonderful folks that they are, offered up a whole bunch of free flower bulbs a few months back. Tulips, Muscari, all the goodies. Bulbs I had originally planned to giveaway on the blog. I'd been talking about this for months. In fact, I've promised these bulbs to just about everybody! This time of year, gardening friends get to yakking about bulbs, you know how that goes.... I didn't think I'd have time to plant any this season ~ hence, the wild idea of sharing the wealth.
But, timing is everything. That bodacious box o' bulbs arrived on a day when Despicable Little Me had nuttin' to do. Willpower being practically non-existent in my world... I selfishly kept them all to myself.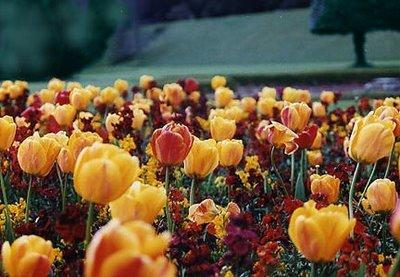 I just love bulbs. They provide so much beauty in a high mountain garden, at a time when the spring landscape would otherwise be adrift in the muddy brown melt of a long hard winter.
Tips & Tricks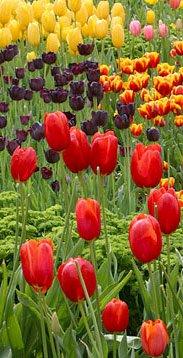 Place in the ground

pointed end up.

When in doubt, plant them sideways and they'll figure it out.
Planting bulbs deeper in the ground helps them stand tall with no drooping.
Tulip bulbs have an onion-like, papery skin that is almost always damaged. No worries. The broken 'skin' actually promotes faster rooting, when planted.
Place bulbs between groups of later-blooming perennials (such as poppies, iris, and catmint.) As perennials grow tall, they will camouflage dying tulip leaves.
Give bulbs a nutrient boost with low nitrogen fertilizer (screened cow manure is great and very inexpensive.)
After flowering, remove faded blooms so plants put energy into strengthening the bulb, for next year's blooms.
Leave foliage in place - that helps bulbs send energy/food to roots for stronger flowering next spring.
Ever wonder why they do so poorly as cut flowers?
Tulips need sunlight to bloom and root energy, too. On average, cut tulips will only survive about 3-4 days. Cut 'em at bud stage to extend their life in the vase.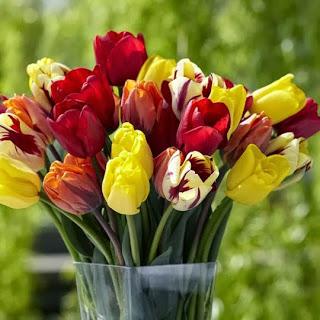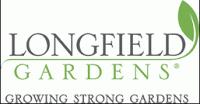 * Longfield Gardens gave me these bulbs in exchange for a blog post. I'd have posted about them anyway. I like the videos they have on their website, helping us get all creative in the garden.  They've got a great selection and good prices, as well. Check 'em out sometime.

Follow @Kate_HAGardens