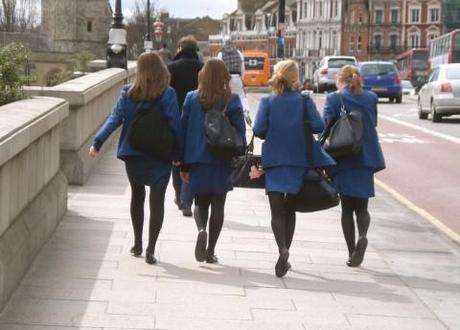 Teenaged girls heading to school. Photo credit: The Ballatician
Ah, the summer holidays: a time of freedom, fun and adventure – at a cost of £8.6 billion, apparently. According to insurer LV=, this is the amount parents in the UK will spend on childcare and entertainment during the traditional six-week school holidays, which works out at an average of £660 per child. Before the six-week parliamentary recess, Education Secretary Michael Gove called for an end to the tyranny of summer holidays, suggesting a move to a four-week break at free schools and academies.
"For parents, the overlong holidays are a headache and an expense." The Observer.
School's out for summer. Sigh. Writing in The Observer, Barbara Ellen questioned the effect of the long holidays on parents: "Children may feel 'free' in summer, and that's great for them, but for many parents, the overlong holidays are a headache and an expense." Ellen argued that parents are under pressure to provide constant entertainment and educational stimulation during the holidays, and that this is simply not practical for every family. Citing US research from 1968 that showed poorer children fell behind during the holidays, she insisted that the long holidays are unfair to disadvantaged children: "They miss out on the stimulation and structure better-off parents are able to provide throughout the holidays… The stressed poorer parent hasn't the time or the cash to compete."
"Surely children are entitled to this well-deserved break?" The Guardian.
We don't need no education. A-Level student Sara Abbasi came out fighting in favour of the summer holidays in The Guardian, denying that parents are obliged to provide a range of vacation activities: "Give us freedom to do what we want to do, even if it is nothing. Summer is the only time young people can relax and enjoy themselves without feeling guilty. Surely children are entitled to this well-deserved break?" Indeed, Abbasi blamed "neurotic, pushy parents" for the threat to long summer holidays.
"The theft of fun." The Times.
Leave those kids alone. In The Times, Janice Turner admitted she has grown weary of the summer break – "The long vacation is a kitchen-calendar calamity" – but described plans to shorten the long holidays as "the theft of fun". She envisioned a "call-centre society… where we all toil away 24/7 in soulless booths and windowless hangars", should the plans go through. Despite that, Turner was not too worried about the prospect, if only because the teaching unions would presumably fight any suggestion of cutting the summer holidays. In fact, Pam Milner of the NASWUT union told The Yorkshire Post teachers need the long break to "recharge their batteries", and insisted that most education professionals spent at least part of the holidays working.
More on parenting

Should fat kids go into care?
Parents who hack their kids
Want to win a baby?
Mother-in-law from hell
Smoking mum starts debate