When I was young, I love going to Long John Silver much more than Mac.  It is that crispy texture that I love.  Also found the taste unique.  
After that, I found the quality of the fish as well as the prawns dropped.  The serving quantity also became pathetic.  
Today, I suddenly craved for that and since I needed to clear off the chicken and some fish in my fridge, I shall cook Long John Silver Chicken and Fish Copycat for dinner.
I guess I have enough of fried food for now.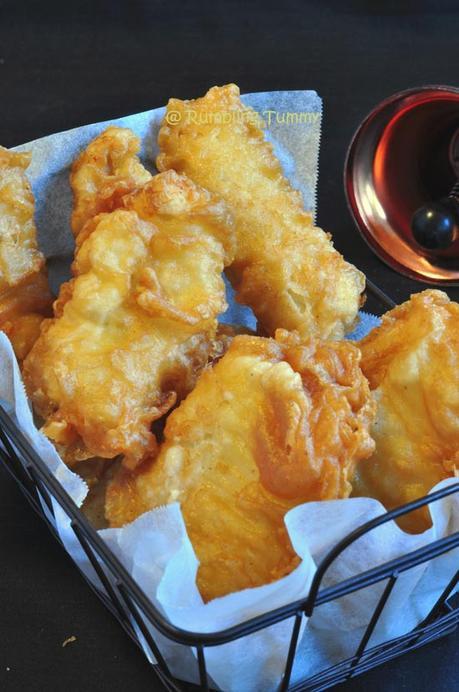 What you need:
500g chicken breast, cut into thick strip
1 tsp salt
2 tsp garlic


½

 tsp pepper
400g fish fillet, cut into block
1 tsp salt


½

 tsp pepper
Batter
200g plain flour
4 tbsp cornstarch


½

 tsp baking soda


½

 tsp baking powder
3 tsp salt
2 tsp pepper
¾ tsp onion powder
¾ tsp garlic powder
330ml water
Method:
Marinate meat according to the above seasoning.  Let it chill for 1 - 2 hours.
Mix all dry ingredients in a bowl.
Add water slowly and stir until batter formed.  If you prefer lighter texture, add a little more water.
Heat oil. (when you put your chopstick in the middle, bubble forms and that shows oil is ready)
Dip fish or chicken in batter to coat completely.
Deep fry until golden brown on both sides.
Drain off oil.
Serve.
Note: the remaining batter, you can drizzle into oil to form crumbs.
If you have enjoyed this post by Rumbling Tummy, be sure to follow this Rumbling Tummy on Facebook, Instagram, Pinterest, Twitter and Google+.