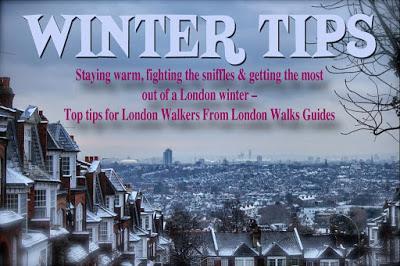 Outside in all weathers, the London Walks guides know a thing or two about battling the cold weather.
In this short series we're sharing our winter weather tips with our lovely London Walkers, a hardy bunch who join us rain or sleet in the winter months.
London Walks guide & Daily Constitutional Associate Editor Kim adds…
Secret is to dress warmly with lots of layers that will trap the air, hat and gloves are essential and if it's really cold then there's tights under the trousers and an extra pair of socks.Then you need regular hot drinks - always tea for me - and this is the season where comfort food comes into its own.Finding the chunky soup shops and the cafes with shepherd's pie is a real delight.
So this gets you out and about but how to manage the walk?Well it's keep moving, shorten the stops and keep your eye on the walkers - I did once cut short a walk with a group of schoolchildren as one of the boys was turning blue in front of me.
But then I try to find places where you can get inside - even if it's only for 5 minutes it gives you a break and warms you up a little.This often means churches -there are lots of them and they are open - but don't think this necessarily means religion.Sometimes you'll find tombs or memorials to interesting people, great charities that are using their premises and history galore and once you start to investigate these fabulous spaces you'll get hooked.
Finally, the walk is done and you've got yourself home.Shed the layers, make the tea, turn up the heating and snuggle up on the sofa.One thing missing?You guessed it - the cat.He's sitting here now, on my lap as I type my copy and sharing his bodywarmth as he purrs away.The perfect hot water bottle!
Kim does churches on Secret London, Tuesday at 10.45 from Chancery Lane, The Blitz, Thursday at 2.30pm from St Paul's and Unexpected London, Fridays at 11am from Temple.
Kim
Kim, who has worked in the House of Commons and the European Parliament, is another 24-carat Blue Badge Guide: she won the London Tourist Board's Guide of the Year award in 2001. 
On Tuesdays our blog posts support the charity Missing People

Thousands of people in the UK are searching for a missing loved one. Missing People is a lifeline when someone disappears.
 Support Missing People at www.missingpeople.org.uk
A London Walk costs £10 – £8 concession. To join a London Walk, simply meet your guide at the designated tube station at the appointed time. Details of all London Walks can be found at
www.walks.com
.