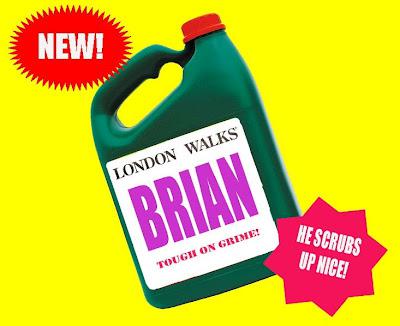 When word got around that LW guide Brian was out cleaning up on The Greenway, we here at The DC smelled not only a fresher London, but a great story!
After some journalistic prodding by Our Man From The D.C, the modest Brian gave an account of how he Did His Bit…
"I signed up as a volunteer for the pgcapitalcleanup.com scheme – you may have seen posters on the tube. I did my first session at Three Mills painting the railings with a group of about 20 other volunteers from the USA, Estonia, Germany and of course the UK.
Having done that I was determined to sign up again, but then started thinking… about our Olympic Walk and how I didn't like taking people down the steps off the Greenway. There were lots of weeds and it simply looked unloved.
I therefore decided I don't need to be organised by others! I can do it alone!
So off I popped on my bike and I spent three hours weeding, sweeping and generally tidying up. Four bags of rubbish later, with a bit of backache I called it a day; satisfied that we can all make a difference and show off our wonderful city to its very best."
Brian's regular beats include Thursday's Olympic Walk, 2.15p.m from West Ham tube. 
The only one of his regular London Walks along which he promises NOT to keep things clean is the horribly blood-encrusted Crime & Punishment walk every Thursday. It will take more than a soap powder company scheme to clean up THAT one.