Mary, Fiona, Maxine & Noel in the London Walks office write… On Mondays & Fridays we'll be sharing reviews of our London Walks written by London Walkers. Firstly, THANKS to all who have written to us down through the years, your kind words are greatly appreciated! Our guides don't solicit these reviews on our tours – we believe that this would be a waste of your time. That's what makes these reviews all the more special – t

hey have been sent to us by genuine London Walkers who have 

given up their valuable time

 to drop us a line or two, or leave a comment on travel message boards & websites. Thanks everyone.


Thanks to subwaymark of Salem, Oregon for the following five-star review…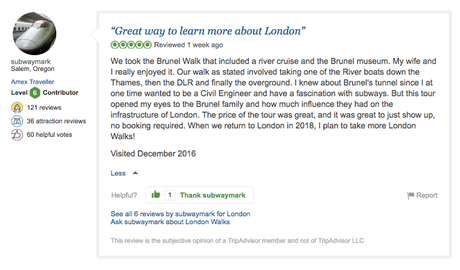 We took the Brunel Walk that included a river cruise and the Brunel museum. My wife and I really enjoyed it. Our walk as stated involved taking one of the River boats down the Thames, then the DLR and finally the overground. I knew about Brunel's tunnel since I at one time wanted to be a Civil Engineer and have a fascination with subways. But this tour opened my eyes to the Brunel family and how much influence they had on the infrastructure of London. The price of the tour was great, and it was great to just show up, no booking required. When we return to London in 2018, I plan to take more London Walks!
A London Walk costs £10 – £8 concession. To join a London Walk, simply meet your guide at the designated tube station at the appointed time. Details of all London Walks can be found at
www.walks.com
.