Mary, Fiona, Maxine & Noel in the London Walks office write… On Mondays & Fridays we'll be sharing reviews of our London Walks written by London Walkers. Firstly, THANKS to all who have written to us down through the years, your kind words are greatly appreciated! Our guides don't solicit these reviews on our tours – we believe that this would be a waste of your time. That's what makes these reviews all the more special – t
hey have been sent to us by genuine London Walkers who have 
given up their valuable time
 to drop us a line or two, or leave a comment on travel message boards & websites. Thanks everyone.
Mary writes… 
Thanks to "jfadds" our visitors from Chicago who reviewed us on TripdAdvisor this week…
"Money well spent for a two hour lecture/walk"
With all the terrific subjects available to choose from , one cannot go wrong here. We have been on six different walks so far- all interesting and add so much to the enjoyment of this complex city.
Visited September 2016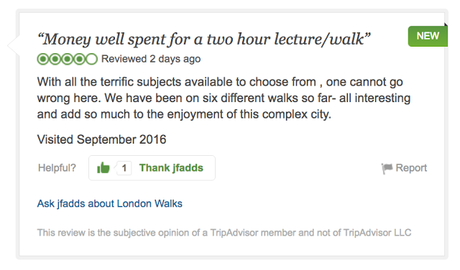 A London Walk costs £10 – £8 concession. To join a London Walk, simply meet your guide at the designated tube station at the appointed time. Details of all London Walks can be found at
www.walks.com
.