It's our weekly London roundup starting with a few headlines that caught the eye in London over the last week or so, click the links for the full stories…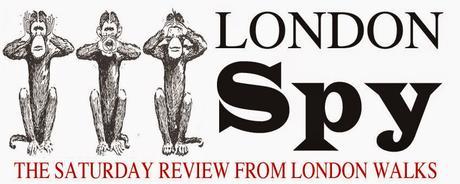 ENVIRONMENT:
London's Urban Farmers
One of the most expensive cities in the world, London is not known for its urban agriculture. Yet a new generation of farmers is starting to change all that by transforming the city's underground tunnels, industrial warehouses, and rooftops into urban acreage.
Cultivating derelict and under-utilized spaces, urban beekeepers, growers, and brewers are leading a green revolution in one's of Europe's most densely populated cities. Although in its infancy, young entrepreneurs with a commitment to sustainable growing and food production are finding opportunities to grow food commercially. From the UK's first acquaponic vertical farm to a bee apiary that spans the city's gardens and rooftops, we look at three businesses who are leading the way.
Full story at Modern Farmer here
modernfarmer.com
PROPERTY:
The London Property Tube Map
A London Underground map that charts house prices across each of the 280 tube stops has revealed the gaps in prices between stations just a few minutes away from one another.
The average property in Finchley Road on the Metropolitan and Jubilee line costs £1.4 million. Eight minutes further down the line at Wembley Park, the average property costs £404,000.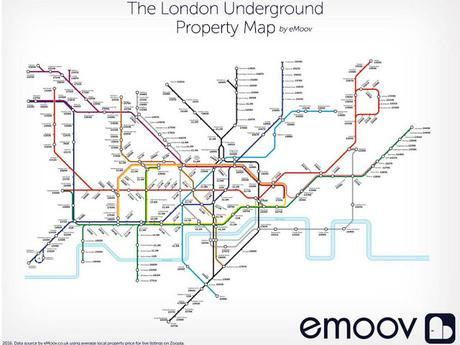 Full story, The Independent (map source:emoov) –  www.independent.co.uk
SEX IN THE SUBURBS:
Coitus interruptus
is a complex affair in East Finchley…
The whole car was rattling. "I have to set this person free!" I thought. BUT... I have to do it quickly in case the person who's trapped them comes back. This is DANGEROUS but I am A HERO. My dog is too. Both heroes. In a swift, dynamic movement I flung open the boot of the car. The boot light came on. I was staring into the face of a woman!
The woman was naked.
Full story in Huffington Post… www.huffingtonpost.co.uk
In Brief…
TRANSPORT: London Car Owners Rarely Drive Their Cars – Evening Standard
PROPERTY:
South Ken Storeroom On Offer
at £35,000 – Metro
TRAVEL:
Mayor Proposes Two Cross-London Tunnels
– LondonLive
TRAVEL:
End of the Line For Orange Tickets?
- ITV
HERITAGE:
The Lost Pubs of North London
– Ealing Times
SHOPPING: Manolo Blahnik Opens At Burlington Arcade – The Independent
FOOD:
Management Takes Waiters' Tips At Posh
- The Guardian
DC Catch-Up
Stories you may have missed on The Daily Constitutional this past week…
MONDAY: 
London cats took center stage on our Monday photoblog slot
 – including Jimmy who disrupted the RSPB's Big Garden Birdwatch event last Saturday!
WEDNESDAY: We visited the Sherlock Holmes Pub for its relaunch – 
a VIP murder mystery night, no less!
THURSDAY: The vintage board game Saga found in a Highgate charity shop
FRIDAY: Our NEW blog series launched – London As Seen on TV, in which we'll tour the locations of London's best-loved TV series, starting with Lucky Man
FRIDAY: Walks for Kids in Half Term
FRIDAY: Bill Haley's visit to London in '57 (with a playlist from the famous Rock'n'Roll revival show at Wembley back in '72)
EVERY NIGHT: Our London Nightly Photoblog series made a comeback – we'll be posting a London pic every day in February just before midnight.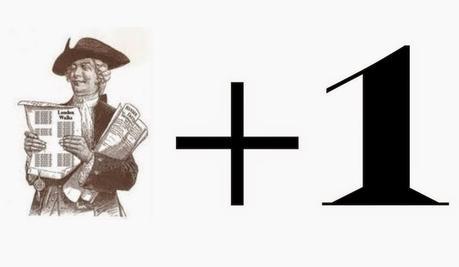 If You Do One OTHER Thing In London…
Our weekly slot in which we point you in the direction of other happenings and events in our great city. A new exhibition, a gig, a museum, a pop-up-shop – the best of London within a few minutes of a
London Walks
walking tour.
Book Tickets for Whistleblower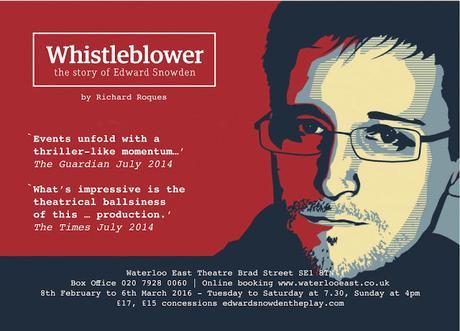 Whistleblower
– The Story of Edward Snowden by
Richard Roques
returns to the Waterloo East Theatre from 8th February running to the 6th March.
Richard Roques is known to many of you as our very own Richard III, London Walks guide and Daily Constitutional Special Correspondent. 
"Whistleblower is always watchable. Events unfold with a thriller-like momentum…"
Lyn Gardner The Guardian 11 July 2014
"What's impressive is the theatrical ballsiness of this London fringe production…"
Kate Bassett The Times 11 July 2014
The Waterloo East website is at
www.waterlooeast.co.uk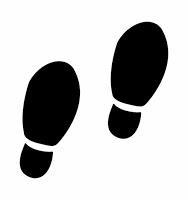 Walking & Footwear News
There's only one walking story this week – no other news can touch this one…
An intrepid fundraiser has raised an astonishing £10,500 walking the British and Irish coastlines – and he's not finished yet.
Alex Ellis-Roswell, from Bridge near Canterbury, has walked a staggering 4,000 miles over the last two years to raise money for the RNLI.
But the 22-year-old, who ran a marketing business before embarking on his trek, still has 2,500 miles – and two years of walking – to go.
He lives on a tight budget of £5 a day, sleeps in a tent – unless some kind supporter offers him a bed – and he walks between 10 and 15 miles a day.
Read the full story in the Canterbury Times here: www.canterburytimes.co.uk
   You can donate to his cause here:
mydonate.bt.com/fundraisers/longwalkround
DC Editor Adam writes:
Well done Alex, Godspeed. If you are ever in London and want to join my
Rock'n'Roll London Walk
you can do so as my guest for free.
***
Seen In London This Week…
Gum recycling in Kensington…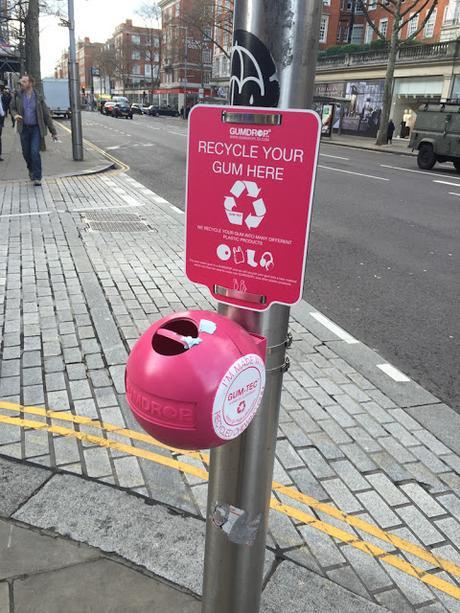 London on TV
As noted above, our new series
London As Seen on TV
was launched on Friday with a post of the new show Lucky Man…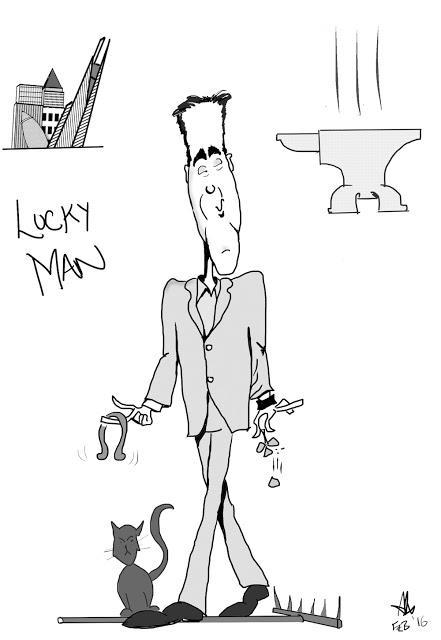 Soon after posting news of the new series, we had our first nomination, from London Walker and ace blogger Veebs via Twitter…
@londonwalks Does Are You Being Served? count? Grace Bros Dept Store was supposed to be located in London :D — Veebs (@callmeveebee) February 5, 2016
Adam replies:
It certainly does! I'll give you a heads-up as soon as the post goes live. Thanks for the nomination!
P.S I haven't forgotten the blog post I promised, honest! (Bit of background… I had a small wager with Vanessa late last year: the first one of us to see snow in our neighbourhood had to post a pic online and the loser would write a post for the other's blog. It will come as a surprise to no one that the Brit (me) lost to the Canadian.)
Vanessa blogs on life, film and books at stardustclassicfilmblog.blogspot.ca
And Finally…
Our
#plaque366
project – in which we are posting a London plaque on The Daily Constitutional every day in 2016 – is well and truly under way.
This week we received some correspondence on the subject – from London Walkers
Wendy Bell
(via email) and from
Jeannine Lanigan
via Twitter…
@londonwalks Still remember making the pilgrimage to No. 84 on my first visit to London 20+ years ago. Bookshop long gone, but I was there. — Jeannine Lanigan (@pghwelshgirl) February 3, 2016
DC Editor Adam replies…
Dear Jeanne & Wendy,
Thanks for getting in touch – you've given me a great idea for an 84 Charing Cross Road-themed blog post. Stay tuned…
Have a great week!
London Spy will return next Saturday
A London Walk costs £10 – £8 concession. To join a London Walk, simply meet your guide at the designated tube station at the appointed time. Details of all London Walks can be found at
www.walks.com
.