This weekend, London was disrupted by some of the worst rioting in decades. Were the riots the work of opportunist criminals or an expression of wider societal problems?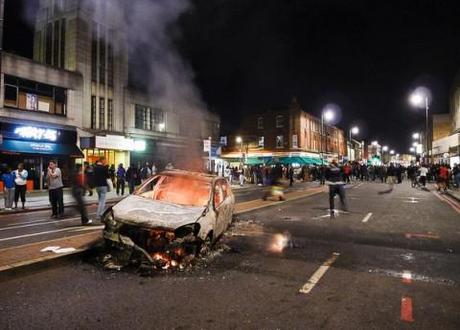 A car burns during rioting on Tottenham High Road, north London. Photo credit: NicoBobinus
British police have arrested more than 160 people in London over the weekend as the worst disorder seen in the capital for decades erupted in Tottenham and spread like wildfire. Widespread rioting saw shops looted, cars, buildings and buses set on fire and police officers attacked. It also opened a heated debate about British race relations and the ability of the under-fire Met to police the streets.
The explosive outbreak of rioting was sparked by the fatal shooting by police of 29-year-old black British man Mark Duggan during an attempt to arrest him last Thursday in Tottenham. Commentators suggest the street violence, which has spread from Tottenham to Brixton, Enfield, Walthamstow, leafy Islington and even central shopping area Oxford Street may be indicative of wider social problems possibly exacerbated by Britain's sluggish economic recovery.

The police and politicians have been quick to blame the violence on opportunist criminals. London's Deputy Mayor Kit Malthouse blamed the violence on a relatively small band of thugs: "This is quite a small group of people within our community in London who … are frankly looking for stuff to nick (steal)," he toldSky News. Local MP David Lammy said many of those arrested had come in from outside the area: "The weekend's violence was not a race riot, it was an attack on the whole of the Tottenham community, organized on Twitter," he wrote in The Times newspaper on Monday.
"Whatever happened to rotas? It's remarkable the PM, DPM, Chancellor, Home Secretary and London Mayor are out of the country," tweeted Labour MP Tom Watson.
Sinister side of black culture. The "sickening" violence has nothing to do with "poverty or racism," insisted Leo McKinstry of The Daily Express, who lamented that "all too predictably" many have attempted to "make political capital out of the carnage, painting the event as the anguished cry of a people suffering from Tory oppression." McKinstry argued that the rioting "was not a political act but an outbreak of vicious nihilism," and said, "only a blinkered Left winger, fuelled by the dogma of Marxism, could pretend that looting from a carpet store and committing arson against a pub represent heroic blows against a racist establishment." McKinstry suggested that the portrayal of the rioters as "political victims only strengthens the climate of irresponsibility that prevails in large parts of our inner-cities, where every problem from unemployment to knife crime is seen as the fault of the Government." McKinstry said "the refusal to hold innercity black youths to account is itself utterly racist" and demanded that more must be done to address the "sinister side of black youth culture, whether it be the macho swagger of gangsta rap or the cruel indifference towards paternal responsibilities."
"It's time for England to confront its race-related issues," boomed US-based writer Lola Adesioye at Huffingtonpost.co.uk. Adesioye lamented that tensions between black youth and the police in the inner cities "have not dissipated" since the late 1970s, "on the contrary, suspicions are endemic. Black leadership is desperately lacking, and the country refuses to tackle these major challenges in any substantive way." As a result, "black people – youth especially" are being "left high and dry," regretted Adesioye, who suggested that the "unwillingness to confront what's really going on" has been "evident in the (media) commentary." Adesioye reminded that black men are sadly "over represented" in crime statistics and in prisons and called on black British leaders to show more "willingness" to "stand up and take ownership" of the problems facing their community.
"The collective memory of Tottenham" played a role in the #LondonRiots" prominent black British blogger Symeon Brown tweeted.  "Old wounds have re-opened."
Zero tolerance policing for London. "The problem," insisted Melanie Phillips of The Daily Mail is that the police are "no longer trusted, neither in what they do nor in what they subsequently say about what they have done." Phillips stressed there have been "simply far too many examples within the Met of rank incompetence, tendentious self-justification and worse." To clear up the mess at the Met, Phillips urged the Home Office to bring in zero tolerance practitioner Bill Bratton, "the genius American police chief" who "transformed policing" when he halved New York's murder rate.