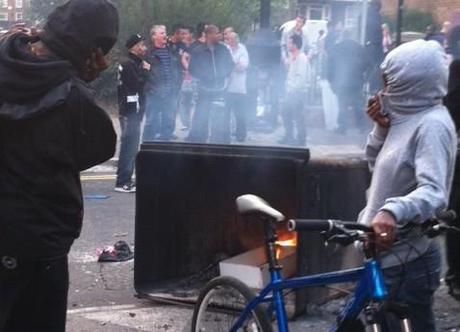 Rioting in Hackney, London, on 9 August 2011. Photo credit: Alexander Tsangarides
One year ago, London was on fire – but nobody seems to remember it.
The rioting that began on 7 August, 2011 in Tottenham at the peaceful protest of the police shooting of Mark Duggan spread over the next four days across London, to Hackney, Clapham, Notting Hill, Croydon, Ealing, Enfield, East Ham, and Brixton, among others. Outside of London, Birmingham and Manchester also caught flame. More than 3,100 people were arrested, more than 1,000 of those charged; five people were killed in the rioting and more than £200 million worth of property damage was incurred.
That all seems a distant memory now, the images of cars and buildings aflame eclipsed by the successful London 2012 Olympic Games. Few commentators have broached the topic, despite the recent claims from one of the country's top police chiefs that further government spending cuts would leave officers unable to cope with a repeat.
So, did we learn anything from the London riots? Maybe, maybe not.
We're not dealing with the scars of the riots because we don't want to
"There's been a lot of talk about the Olympic legacy, but we have a riot legacy to deal with," wrote Michael White at The Guardian, pointing out that the riots were "blanked in many places you'd expect them not to be" one year on. Why? "Overall I think we've chosen to look the other way." But, he warned, the ingredients that went into the 2011 riots – few jobs, little community support, antagonism between police and people on the streets – haven't been addressed sufficiently. "As with the Olympic legacy the riots legacy team made promises of outreach and investment, better facilities and job prospects, which have only been patchily met, sometimes not at all."
Britain not worried about a repeat
Matthew Goodwin, professor of politics at the University of Nottingham, offered his analysis of a poll he conducted with YouGov about perspectives on the riots at The Huffington Post. His conclusion? Britons generally aren't worried about a repeat. That said, he also noted that some of the surveys findings suggest that those who cohort was most involved in the riots – young men between the ages of 18 and 24 – are "less optimistic that the police and politicians have resolved the underlying tensions that led to the riots". And, he noted, they survey underscores an important class distinction: "It is these groups who are lower down the social and economic ladder – skilled, semi – and unskilled workers, and who depend on benefits – who are significantly more worried about another outbreak of riots than those who are in more secure professional and managerial jobs."
Olympics show London has come a long way since the riots
But at least two prominent figures are celebrating London's transformation since the riots: Lord Coe, the London 2012 Games chairman, and London Mayor Boris Johnson, who appeared to fall into the "there's never an excuse for rioting" camp. Lord Coe said that he didn't recognize London at the height of the riots, but now he does: "I think that that's for me been a very important journey over the last year." Johnson agreed, citing the "effort and achievement" that went into organizing the Games, adding, "What the riots revealed was, I'm afraid, a deep social problem which requires lots of different solutions. There was a culture of easy gratification and entitlement, and all the rest of it, that is part of the problem, and you have to deal with that."
More on the 2011 riots

Police fear repeat of 2011 England riots
Riots caused by anger at police?
London riots become England riots
England riots: Young people looking for 'buzz'