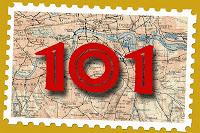 To celebrate the 5th Birthday of The Daily Constitutional, our editor has compiled a list of 101 things to love about London…
Here's LW Guide Kim adding her twopenn'orth…
19/101: It Never Stands Still!
So many times I turn a corner on a walk and am brought up short because something new has arrived.   There's an interesting piece of art, a memorial, a building's been finished, a view has emerged as a building's been torn down or there's a different organisation that's taken over from something familiar. 
"Oh, that's lovely, what is it?" is the cry from my walkers and I have to shrug and admit that it wasn't here last time I was so I have no idea.  That's what sends me off to research, find out something new and update myself.
I often get into conversations with walkers who say it must be really hard to learn all of London's history but the truth is that once you've got the history and are using it regularly then it's not that difficult.  The really hard part is keeping up with the changes and incorporating them into the walks so our visitors can see London in the best possible light.
That's what makes London the best city in the world - and being a London Walks guide the best job ever!
Kim
Kim, who has worked in the House of Commons and the European Parliament, is another 24-carat Blue Badge Guide: she won the London Tourist Board's Guide of the Year award in 2001.
Join Kim to see London new and old on Secret Village on Monday (2.30pm St Paul's), Secret London on Tuesday (10.45am Chancery Lane) or Old Palace Quarter on Friday (2pm, Green Park).
A London Walk costs £9 – £7 concession. To join a London Walk, simply meet your guide at the designated tube station at the appointed time. Details of all London Walks can be found at
www.walks.com
.