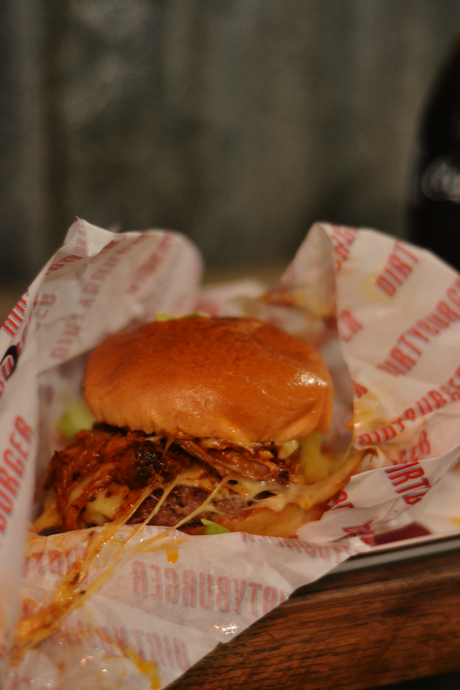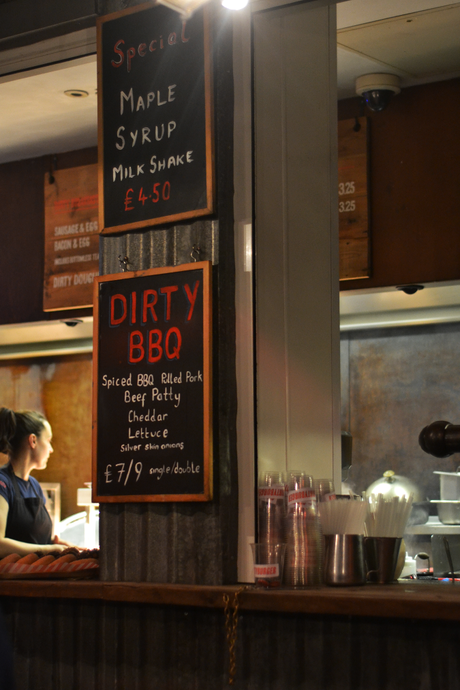 Round the back, 79 Highgate Road, London, NW5 1TL. Open Mon to Thurs: 7am-12am, Fri: 7am-1am, Sat: 9am-1am, Sun: 9am-11pm.
Not one to waiver my status as a Dream Team gal (a.k.a. blogger that must try every burger in London), I finally visited Dirty Burger with my colleagues on Wednesday. The kid brother of Pizza East and Chicken Shop, we were more than excited to get down and dirty in Kentish Town for a much-needed after-work bite. We even did an hourly countdown to the momentous occasion.
What We Ordered:
Dirty BBQ burger - for Darshika, Ellie and I
Dirty Bacon burger - for Brian, Ryan and Sophie
Crinkle cut fries
Onion fries
... You know how this one's going to go, right?
Hands down,
Dirty Burger
makes it into my London Burger Top Five. Situated in a little tin shed (I'm not lying) behind Pizza East, two benches and a communal table make up this once pop-up. As with all good burger places, the menu is short, sharp and sweet. We ordered a good mix of everything from super friendly waitstaff and settled on down.
The Dirty BBQ burger that I ordered was actually their weekly special. Full of pulled pork goodness, a double beef patty, oozing cheese, silver skin onions and your standard leafy bits, this was darn good. Like, seriously good. I could have easily eaten 3 if I wasn't already starting to get full. Sophie confirms that the Dirty Bacon was just as good - but er, pulled pork always trumps bacon in my books.
& Side Splitting Sides.
Onto the sides! I think at smaller burger joints, the sides
make
the meal. Dirty Burger's certainly didn't disappoint: the onion fries were out of this world good. Deep fried loops of red onion make for the perfect accompaniment to an elbow grease (greasy food term!) burger and their crinkle cut fries had a good balance of crunch and flavor.
(Then we went downstairs to Chicken Shop for a whole apple pie.)
Overall, I'd certainly head back to Dirty Burger for a late night bite. It's a good place for smaller groups and of course it makes a fun and messy food bonding experience. Pricing is pretty standard for a burger joint averaging between £6 (for a standard cheeseburger) and £9 (for their special). They also have branches in Vauxhall, Shoreditch and Whitechapel.