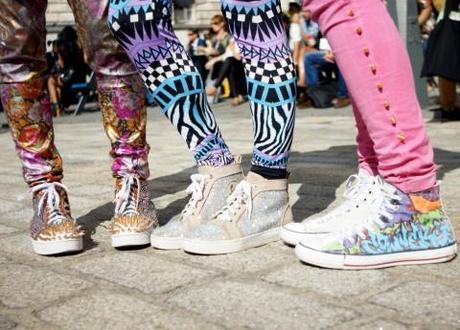 Top-to-toe style at London Fashion Week. Photo Credit: Flickr.
The background
For those of you who don't know (perhaps you are in hiding or trapped under a rock somewhere) it's London Fashion Week. The global fashion pack have descended upon the English capital and fashion editors and style bloggers alike have voiced their opinions on what London has sent down the catwalk for s/s13.
Burberry
Burberry is as quintessentially English as the rain. In fact, rain is a fundamental cog in the Burberry machine. The signature piece is the trench coat, they make a snazzy brolly and they even made it rain at their A/W 12 show in February. So what did they have to offer this season? As ever, it was elegant, classic and quintessentially English. With this collection, however, designer Christopher Bailey was slightly more fantastical – eschewing the practical in favour of dreamy, escapist touches. Bailey told The Telegraph that the collection was "a little bit sassier, a little bit sexier, and a little bit more joyful." Indeed, The Telegraph's Luke Leitch noted the racier approach: "its first look was a dramatic cream cloak worn over a saucy-for-Burberry satin basque. This friction between buttoned-up and get-your-bits-out continued throughout."  Style.com noted that the iconic Burberry trench was given a kaleidoscopic treatment: "The progressively more elaborate iterations of the classic trench—from purest white through ruched pink and ombréd fuchsia to coppery lace and feathers—should earn the coat an Oscar for versatility." Jezebel also noted the collection's colourful display, calling it a "quiet riot of luxe jewel tones, shiny, body-hugging frocks and trenches, as well as dresses in not-so-innocent lace." Also, much like Marc Jacobs' New York showing: "There were some pants-less ensembles. Some of the ladies left home without trousers." A trend if ever there was one, surely.
Gaga vs. Westwood
In the battle for most eccentric fashion week cameo, it doesn't get any better than this. Following her Red Label show, Vivienne Westwood emerged in a bejewelled helmet and hot pants and a t-shirt emblazoned with the words 'Climate Revolution.' Her sartorial output this season, however, was as subtly political as her last statement was blatant. Style.com noted the deft references to innocence and austerity in "clothing that was among Westwood's more demure offerings: fine wool twinsets, pink silk jacquard skirtsuits, cocktail dresses with giant pearls… They also pointed to a period when consumerism wasn't rampant, and fashion was not so disposable." The Independent noted the nod to post-war style, albeit with Westwood's signature penchant for the dramatic: "Faces painted in chartreuse and pink were topped with debutante shampoo and sets, headpieces of elaborate English garden blooms and Grace Kelly headscarves printed with technicolour bank notes."
Meanwhile, Lady Gaga opened Philip Treacy's triumphant return to London fashion week whilst dressed in a sheer pink creation and announcing him as "the best milliner in the world." The collection, worn by a cohort of all black models, was inspired by the late Michael Jackson. Vogue.com called it "the real ticket of London Fashion Week" and praised the never-ending stream of fantastical creations: "Tricorn hybrid hats; ships-that-had-floated-ashore-onto-a-head-hats; Minnie Mouse ears; blingy-silver wide-brimmed hats; Merry-go-round and carnival set-up hats; helter-skelter and bright light hats; and that's merely when Twitter broke."
Kane, Pilotto and Acne oh my
Christopher Kane, according to Vogue.com, "will put jelly rubber on the map next season." His latest collection saw Frankenstein-emblazoned tops and directional tailoring, as well as his ever-inventive use of material. The Independent observed that his feminine aesthetic was "toughened up with padded leather motorcross jackets featuring an embossed pattern of roses, and haphazard strips of packing tape used as rough embellishment." The paper concluded that, "his great strength as a designer is creating glamorously modern clothes that are conceptual, cool and comfortable."
Peter Pilotto returned to London fashion week with a stirring show, featuring a dazzling light installation that The Guardian praised as one of the week's standout moments. Vogue.com delighted in the "mosaic ice queens and bejewelled mermaids" that the style duo offered up and noted that they had "taken inspiration from Florentine frescoes and mixed these in with geometric and abstract motifs for their print this season." LFW Daily observed a fresh new direction for Swedish brand Acne: "think Victorian gothic fused with jockey stripes and street style – this season's Acne aesthetic is busier, younger and more urgent." Overall, it was a "pacy and eclectic show" with "Scandinavian precision benefiting from the clash and clutter of an altogether more UK sensibility."
What they wore to LFW
Street-style blog STREETFSN documented a whole host of sartorial treats stomping around London. Givenchy's fold over leather knee boots were mixed with sports jerseys, there was a plethora of clutches and a heady mix on one girl of an oversized print sweater and tulle pencil skirt. The Sartorialist took a few London snaps during his visit including one of a particularly stylish jogger proving that sportswear needn't be ironic.
The Telegraph kept abreast of the best looks in the front row and beyond. Alexa Chung kick-started a queue for JW Anderson for Topshop when she wore the collection's bat motif jumper to the Moschino Cheap & Chic show, Anna Wintour rocked her signature sunglasses and trench coat look at most shows and a loyal celebrity following, featuring Dita Von Teese and Tali Lennox, all dutifully wore Burberry to Burberry.