Once again the time of year was upon us. The time of year when deisgners, press and events staff were frantically trying to get their hardwork done so they can show off their hard work.... that's correct
London Fashion Week
was here.

  Having only been blogging just under a year I'd never thought I'd get to go, let alone attempt to get my hands on any tickets. I was extremely lucky to get a pass to go to the
Clements Ribeiro
show at the spectacular Goldsmiths' Hall. The married duo certainly had a range not to be missed.  The couple met and graduated at Central Saint Martins in London, only to continue working together to produce some amazing pieces.  I admire them all the more because they live, love and work together... something that is a challenge!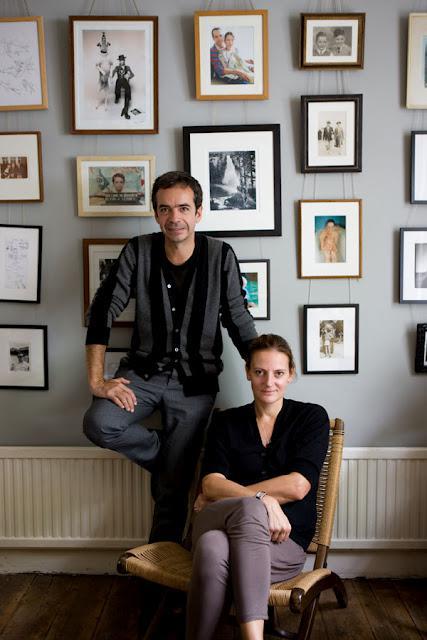 I was extremely thrilled to be invited to their show, with big named celebrities elegant on the front rows, followed by the fashion media close by.  The beautiful Goldsmith Hall was the perfect location, with its exquisite decoration of large gold frames, chandeliers and high ceilings - it was extremely difficult not to get excited about the range to grace the catwalk.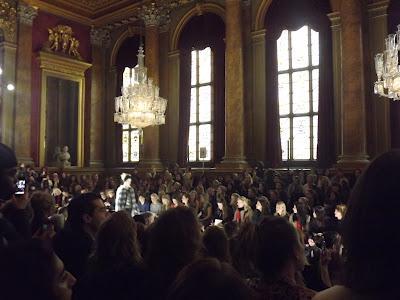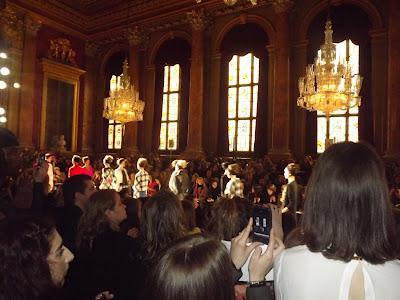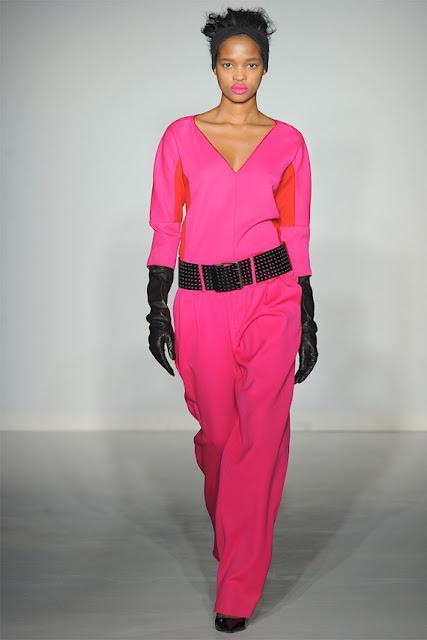 Taken from Vogue.co.uk
Combining textures, colours, prints and fabrics is part of the Clements Ribeiro style.  This collection was certainly no exception with its modern and feminine charm, most items teamed with belts to offer that extra female curve we crave. Bold flashes of color were styled perfectly with statement plaid and floral prints, in electric blues, vibrant fuchsias, and heated orange tones. Colours and prints seen on
stilleto heels, leather gloves, tops
tucked behind cardigans, or in tailored trousers and pencil skirts.  All most certainly adding that edge we love to see from Clements Ribeiro. 
Taken from www.style.com
The collection from Clements Ribeiro was fantastic, in comparison to their previous collection this is my personal favorite.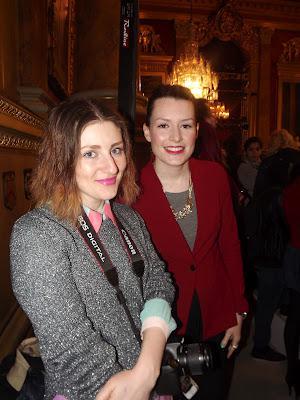 At this show I met fellow fashion bloggers Sarah & Sophie
 After the superb Clements Riberio show, myself and my fellow blogging friends decided to go the
Bourjois
press day.  Tucked away in London was a room filled with press ready to see the new collections from the renowned make-up company.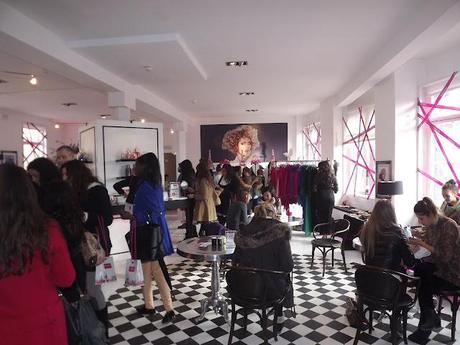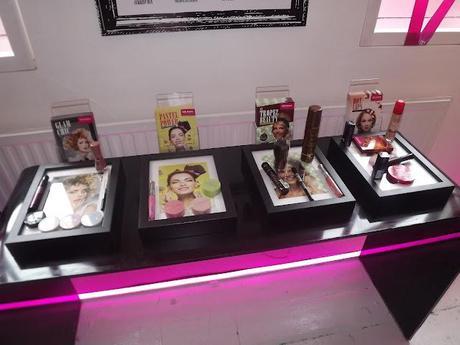 Whilst we were at
Bourjois
you could get both hair and make up done.  Ideal for someone who had dragged herself out of bed to get a train at 7.20am for London. Trust me I was in need of fixing my hair and my make up.  This was a dream come true.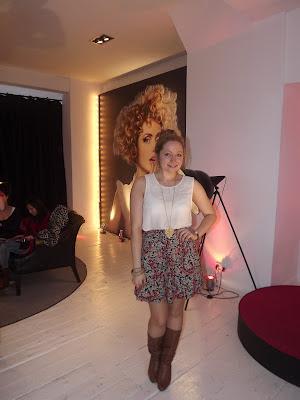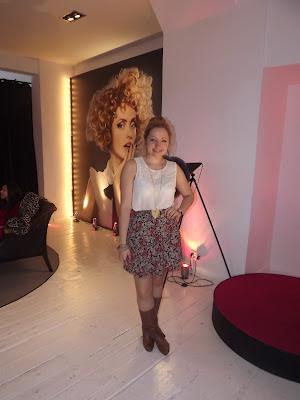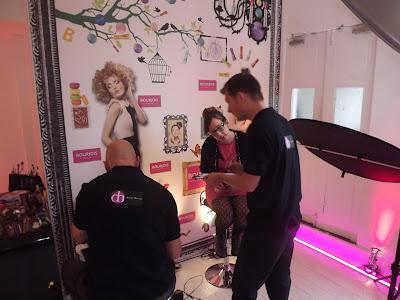 The lovely Jenna getting her photo done.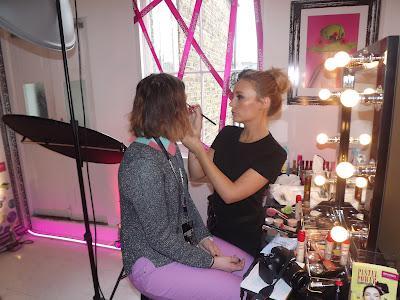 The fantatsic Sarah having her make up done
Having a press day for a make up company is a great way to 'try before you buy'.  I'm very tame with my make up and dont always dare to step out of my comfort zone.  This was an ideal place to try something I perhaps wouldn't usually have chosen.  I know I went for something good because my boyfriend said how pretty I looked when I finally got home.  Winner!
We all had our photos taken afterwards by the Daniel Higgins Photography 
I loved having my hair and make up done.  Thank you Bourjois!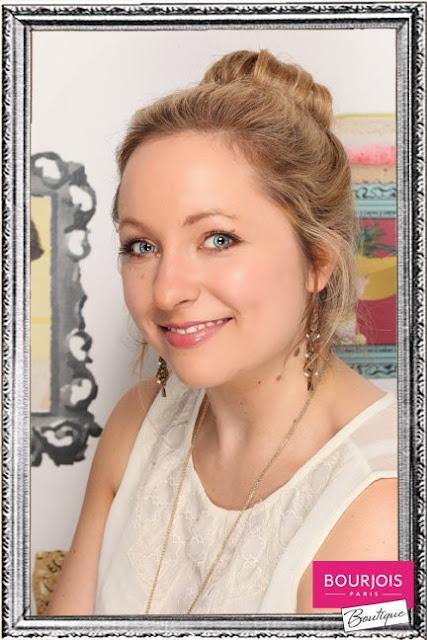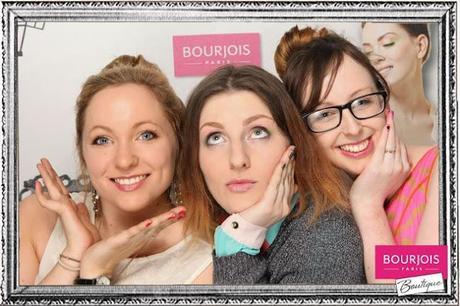 The place was laid out with lots of make up, and ornaments.  It was great even just to have a browse around.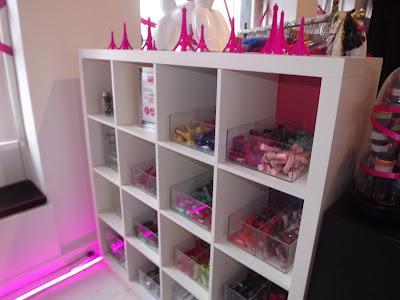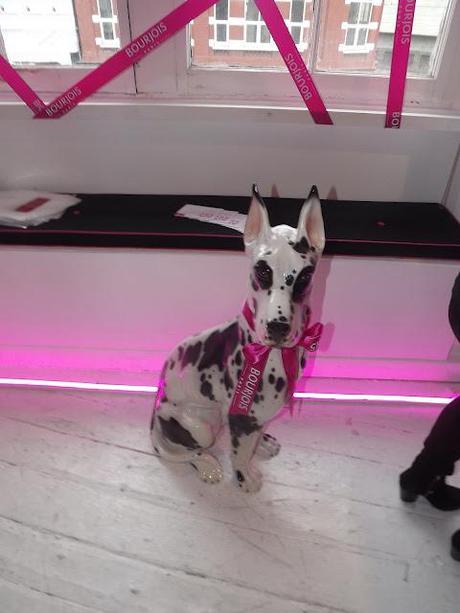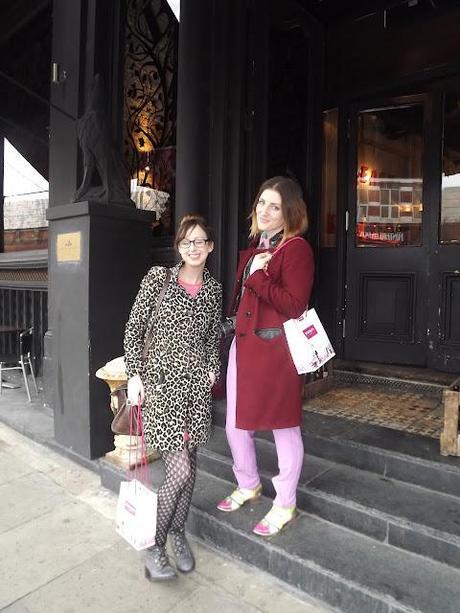 Hair & Make-up done!  Ready to hit the shops & shows!
After dealing with the underground (closures) one of the next shows we decided to go to was the Spijkers En Spijkers.  Being 100% honest I didn't know a great deal about this fashion label, so the entire show was going to be new to me.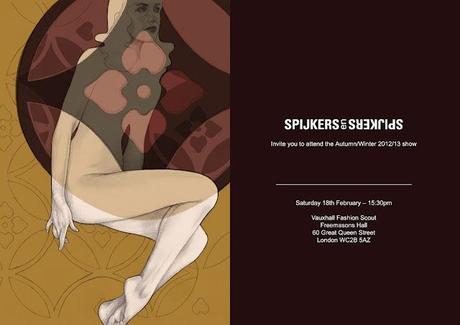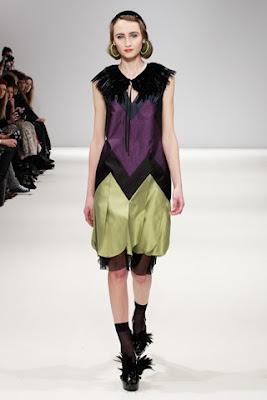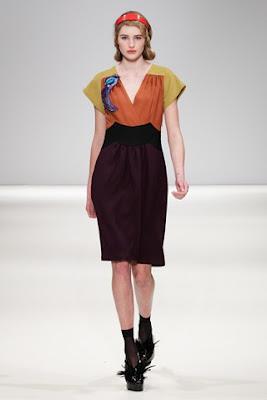 Photos from Vogue.co.uk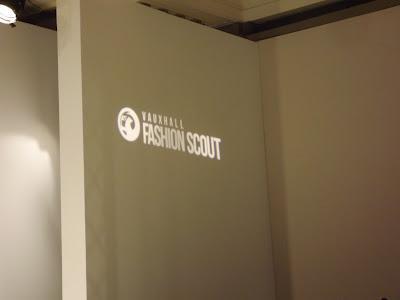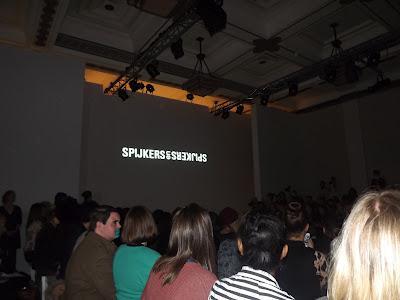 Outdoors was miserable, there was rain, wind and a dull outlook.  Luckily tucked away in the delightful Freemasons Hall in Covent Garden was the Spijkers En Spijkers catwalk show.  A show sponsored by Vauxhall and other top brand names. 
As we sat down, I knew this was going to be the favorite as I was sat between Vogue and Time magazine.  Me, being me, I started a nice little conversation with both, and being the British people we were, we of course chatted about the weather.  Jolly good times!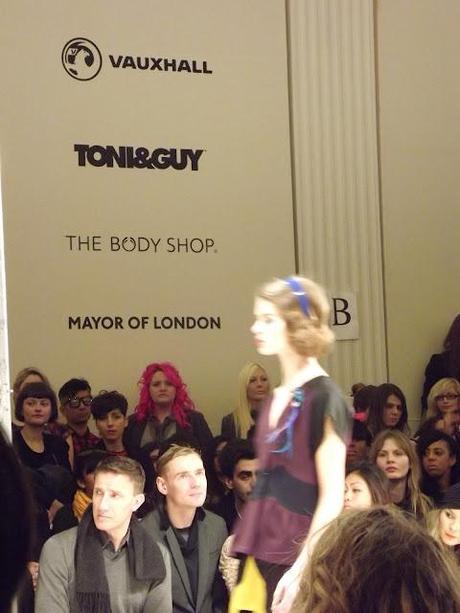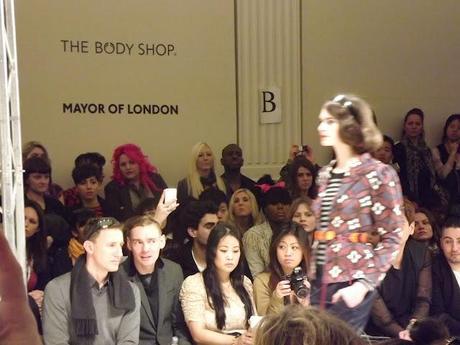 Opting for colourful prints and eccentric cuts, there was an optimistic feeling for the AW12 collection from the Dutch twin sisters. Perfectly entitled ' The birds of paradise' show, it certainly was a fabulous combination of sophistication teamed with fun, especially with the cheeky flirts of feathers on items.  Deep, rich tones of dark greens, burnt oranges, wood browns and berry purples were seen on my many articles offering that warmth in the tea dresses and Art Deco inspired pieces. I loved some of the hints of  feathered additions to items, and fabric collaborations, overall a fantastic show from the Netherland duo.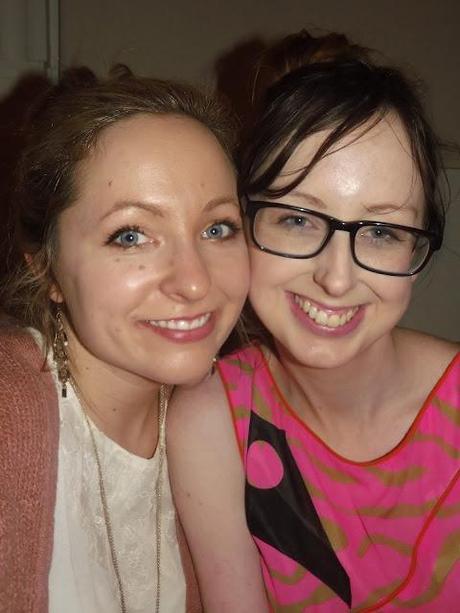 A long day for the Midlands ladies, myself and the lovely Jenna!
So it soon came to the end of my day out in London.  I'd met some lovely bloggers, fantastic PR people and enjoying many new pieces of clothing for AW12.  Next time I'd love to do it properly and stay in a hotel so I had a base, as getting the train at silly o'clock wasn't fun!  I 'm just thrilled I got my hair sorted and looked good for my last catwalk show! 
Who fancies a bloggers meet next time and hotel stay? 

xoxo