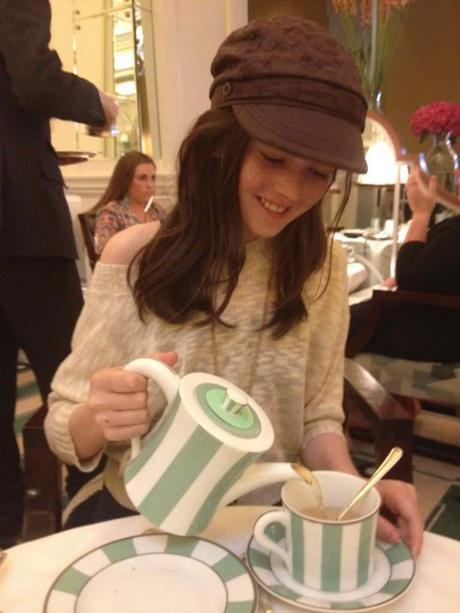 Striped tea service at Claridge's
When you gotta make a choice, you gotta have some criteria. Ruby and I wanted to have a fancy tea somewhere in London, someplace where we'd need to slip out of our travel clothes and into something that could actually be considered an outfit.
We didn't want a place that had become so touristy that it packs people through for maximum monetary effect, plopping the next guests on top of you after you've signed the bill but before you've had a chance to get out of your seat. We needed a place near the West End because we would be going to see Matilda the Muscial and wanted to be able to walk. And, when it came to the actual food, we wanted classic tea treats.  Not that there's anything wrong with, say, a hazelnut-basil-bittersweet chocolate scone made with lime-scented organic and hand-threshed buckwheat or something that looks like raspberry mousse, but surprise!, when you bite into it, it's actually sharp blue cheese.
After pouring over locations and menus, the Internet led us to Claridge's Hotel, where the deal was clinched when we saw the photos of the pale-blue-and-white-striped tea service. The teacups called out to us to come see them in real life, and we knew that if we did not drink out of those teacups, there would be no point in going to tea. When we sat down (or rather, had out seats pulled out and pushed in for us), the tea (French Vanilla and Claridge's Royal) and the food (sandwiches, scones, pastries, and a candy table as you exited!) were so good you wanted to high five after every bite. We unhurriedly sat there for over two hours, until, alas, we had to leave to meet Mr. Miscellany.
So, can you pick a restaurant by its stripes? Why, yes, you can — it'll be delicious!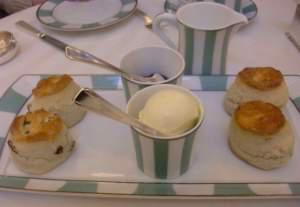 Apple and raisin scones with Marco Polo jelly and clotted cream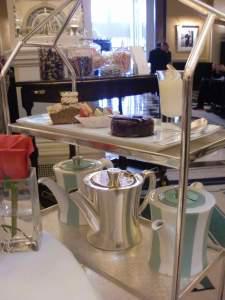 Teapots and pastry assortment at the ready