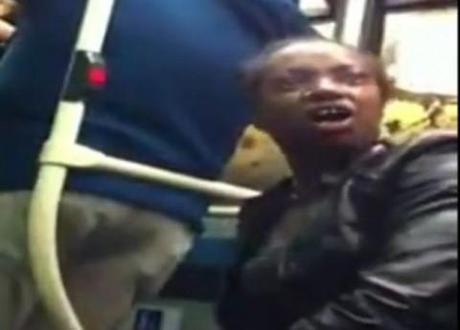 The latest racist ranter to shock passengers on London's public transport
Yet another expletive-laden racist rant filmed on London's public transport has appeared on YouTube. In the latest shocking video to hit the internet, a middle-aged black woman is seen screaming at fellow passengers that she "hates white people" who "all want to be f****** black." Previous racist rants on the tube, trams and buses have shocked and saddened Londoners and led to the racist ranters going to jail.
The Daily Mail ran the video prominently on their website and reported that the Metropolitan Police are aware of the footage filmed by a passenger on a London bus and are "assessing it." The ranting woman is yet to be identified.
"Free speech. I hate white people. I can't stand none of you," booms the ranter in the video, in which she says "they (white people) all want to be f***ing black, they all put fat in their lips and their bottoms and sit down on the sun bed to be black."
Previous public transport racist ranters who have been exposed on YouTube have gone to jail, reminded The Daily Mail. A rant recorded on the London underground central line train showed secretary Jacqueline Woodhouse, 42, from Romford, Essex, hurl abuse at Asian passengers. She was jailed for 21 weeks after she pleaded guilty to one count of causing racially aggravated harassment, alarm or distress by using threatening, abusive or insulting words or behavior.