SPOILER ALERT: if you've not seen the opening ceremony of the 30th Olympiad, don't read on (unless you want to find out a couple of the surprises).
When I first heard that Danny Boyle had been asked to fill (and accepted) the role of creating and directing the opening ceremony for London 2012 I was quite excited. I love Trainspotting and Slumdog Millionaire – to name but two – and thought he'd make an excellent job of it. Then I realised that he somehow had to follow on from Beijing. Oh dear.
In these humble times of financial woe and belt-tightening how on earth could London compete with, what was widely cited as, the greatest opening ceremony of all time? My pessimism kicked in, surly it would be an awful, cringe-worthy cheap looking version of what had gone before. Even if it was as spectacular as Barcelona or Atlanta, that just wouldn't cut the mustard – the world expects more these days.
But the world was not expecting Danny Boyle, Isles of Wonder, or what we surly must now call the ultimate opening ceremony.
When it was announced that they were going to take it in a completely different direction (to Beijing) I was quite relieved. That's not to say I didn't have doubts (I'm a horribly cynical person, after all), but I was glad that they weren't going to try something we all knew couldn't be done.
As the day got closer we started getting tantalising glimpses – the mock-up of the stadium, the interview with Boyle, the pictures of the stadium itself – and the excitement began to build. But what would it be? How were they going to portray Britain? We're a bit of an awkward country when it comes to history – how could you differentiate between the nations without confusing us – let alone the rest of the world?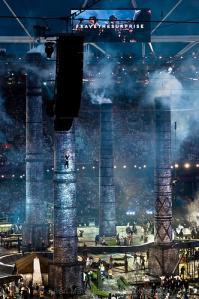 Flickr: PowderPhotography
The transformation from Britain's green and pleasant lands – full of sheep, meadows and an orchestra – to a stadium fit to hold a ceremony on such a grand scale through the metaphor of the industrial revolution was so seamless you'd think it was as natural as closing a window when it rains. Although as one person put it on Twitter – only in Britain could we turn a clean up into performance art.
Those chimneys, the 'molten metal' flowing through the stadium like the river Thames, to make a ring (One ring to rule them all… surly what everyone was thinking) which would rise from the ground and move through the air (and chimneys) to interlock with four others. Britain's industrial past making the floating, golden Olympic rings. And that, why that, was only the opening sequence.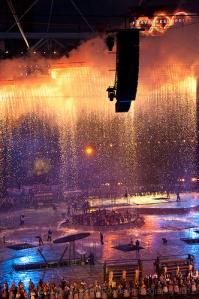 Flickr: PowderPhotography
The ceremony was inspired. I'm not going to regale you with a blow-by-blow account (none of us could last through all of that), but my breath was well and truly taken. Nurses, children's literature, music from pop to punk and grime. And the man who 'invented' the internet; This truly was for everyone.
Two parts really astounded me. Not that the rest was anything less than incredible, but two parts really stuck out; they made me, laugh, smile and almost weep. Firstly the moment a taxi drove into Buckingham Palace (surly against protocol) and Daniel Craig/James Bond got out. Amazing. Then a few moments of Is it?… No, surly not… No, it'll be a double… No – it's the actually Queen. Hats off to you Ma'am, I never thought you'd be up for something like that, but I'm so incredibly glad you were. How else would our reigning sovereign get to the ceremony? Being escorted by her most famous secret agent seems perfectly rational when you think about it… A quick flight down the Thames and through Tower Bridge (not CGI, apparently, BBC news say it was done for real – a first) and then a quick check from Bond before her majesty parachutes into the stadium. Hilarious. Humour. Now that truly is a British way to do the games.
Talking of humor brings me nicely on to my other favorite part. Rowan Atkinson is one of our nation's finest comics – that is not in doubt – but I wouldn't have put a bet on him appearing here. But then which part would I have predicted? Simply playing the piano at the side of an orchestra performing our most famous piece of Olympic music. And we all know what Chariots of Fire music means – St Andrews. Yes, the dream sequence. IT'S WEST SANDS!!!!! I was watching with a group of fellow St Andreans and had Twitter open. We almost jumped for joy, Twitter virtually exploded with excited alumni. I used to live two minutes from West Sands, so I have many fond memories of it – running down towards that beautiful skyline, the waves gently lapping around my feet, and yes, that music going through my head. Bah bah bah bah baaaaaaah bah, bah bah bah bah baaaaaaaaahhhhhh. I'm welling up just thinking about it. It was a fantastic VT, but completely lost on me. I was in my own world.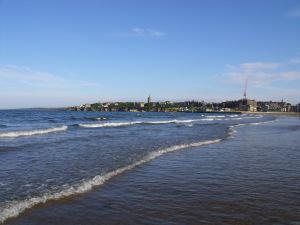 And that is my point (it's taken a while to get to it, I know) that ceremony was open to whatever it meant to you. Yes it had its enormous set-pieces, but it truly represented Britain and there was something for everyone. It was silly, slightly mad (ok it was entirely mad), a little eccentric, a little serious and it was funny. Some of that may be lost on foreign shores, but I think who we are is often lost in translation anyway. It may have been mad, but it was utterly glorious. Yes, the speeches were a little dull, and of course we all were losing the will to live during the athletes' parade when, 25 minutes in, we'd only got to Bulgaria, but they always are and we always do – and there's nothing that can be done about it. But the roar when Team GB entered the stadium showed just how much the UK is backing their team. Our greatest team.
The most inspired choice of the evening, however, was saved for the very end. For weeks we've been wondering who was going to light the cauldron, wondering which of our great Olympians would be given the honor. But they didn't give it to any of them. A complete curve ball. Seven of our country's brightest hopes for the future, each nominated by one of our sporting heroes. The motto of London 2012 is Inspiring a Generation, and so when we think about it, it does make perfect sense to give it to that generation. My generation. It was truly an inspired choice.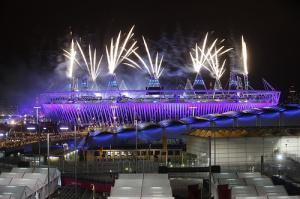 Flickr: Department Culture, Media and Sport
Dear World,
This is London calling, we're hosting a bit of sporting get together. The whole world is invited, 204 countries are coming, 1 billion people are watching. Stand aside Beijing, we're going to put on a show that will blow you away. Welcome to our country, welcome to our home. It's time to inspire a generation.
Yours, ever faithfully,
GREAT Britain 
Cr