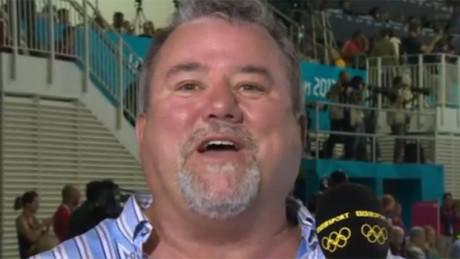 Bert Le Clos. Photo credit: BBC
The background
Surprise results are an exciting feature of any Olympic Games and London 2012 has already thrown up its fair share of head-turning upsets. 20-year-old South African swimmer Chad Le Clos pulled of probably the biggest shock yet when he beat out American swimming legend Michael Phelps in the 200 metres butterfly. Phelps claimed silver and later went on to claim another gold in the pool which moved him to a staggering 19 medals in total and made him the most winningest competitor in Olympics history.
Chad Le Clos said afterwards: "This is a dream of mine, I have always said Michael Phelps was my hero. I remember turning in the last 50 and just looking at him underwater and realising this is my hero, it's crazy."
Bert Le Clos: The World's Proudest Dad
Chad Le Clos unbridled delight was clear for all to see – he blubbed pretty uncontrollably throughout his medal ceremony. But the young man's joy wasn't a patch on the euphoric reaction of his father, Bert Le Clos. In an interview with the BBC, the older Le Clos was fulsome in his praise for his "beautiful," "down-to-earth" boy and said "I've died and went to heaven and whatever happens in my live now, it's plain sailing, it's plain sailing." Bert Le Clos' emotional reaction immediately became many Olympics fans' favorite moment so far.
Watch Bert Le Clos' interview with the BBC here.
"Funny, bizarre, and often unintelligible due to Bert's Afrikaanglish, it's a must-watch interview and the sort of thing you'd never see in the States because some NBC producer would freak out and cut away early," said Deadspin.
More on the Olympics

How Twitter is changing the Games
Britons finally enjoying Olympics?
'Ugliest' Olympics ever?
Six Olympic sports best played by cats