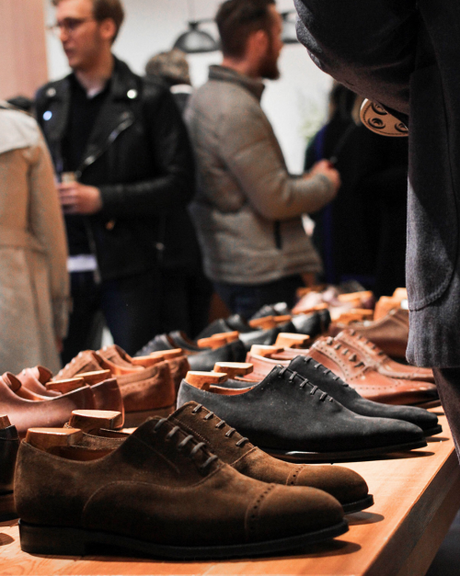 Looking back, it's almost comical how men used to buy footwear. Fifteen years ago, if you wanted a pair of well-made shoes and couldn't afford any of the better-known brands, you had three options. Scour eBay for something gently used; try one of the lesser-known labels from an overseas shop (and pray they fit); or call Allen Edmonds' store in Wisconsin for discounted factory seconds (an industry term for shoes that didn't pass quality controls). Back then, getting a pair of shoes fell into the old engineering line, "good, fast, cheap … pick two." Whatever you'd save in money, you'd spend in time. 
Today, the entry-level side of the market has exploded. It's not terribly hard to get a pair of well-made shoes now for less than what you'd pay for something made in Northampton. And you don't have to spend a lot of time doing it. Brands such as Meermin, Bow Tie, Cobbler Union, Carlos Santos, Paul Evans, Jack Erwin, Kent Wang, and Beckett Simonon sit in the same space previously occupied by only Allen Edmonds and some obscure names. Allen Edmonds also now has a dedicated online store for their factory seconds, so you don't have to call their Wisconsin location and hunt for photos of the models online, like some kind of Senior Research Fellow on Frugality.
Yesterday saw a new entrant into this competitive market. The Swedish shoe store Skoaktiebolaget (a sponsor on this site, although this is not a sponsored post) debuted their in-house label, Löf & Tung. The name comes from the company's two co-founders, Patrik Löf and Daniel Tung. "In Swedish, Tung means stability and Löf means leaf," says Patrik. "Daniel and I are very different in some ways, and the company's name reflects this. Tung stands for stability and having a foundation, whereas Löf represents fickleness, unpredictability, and always being on motion." If you look closely at their logo, you can see the ampersand has been cleverly modified to form the letters LT.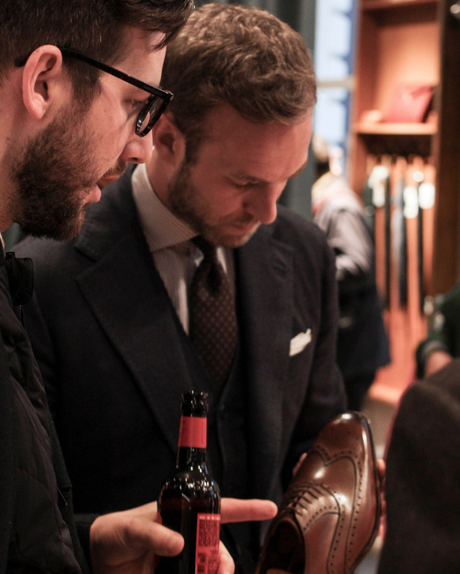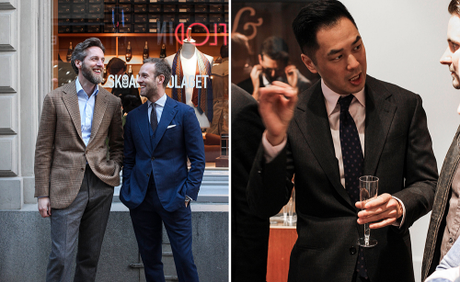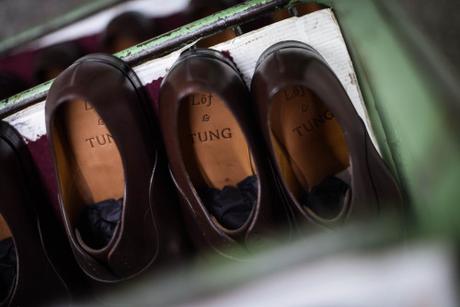 On specs alone, Löf & Tung will sound familiar. These are made in Spain using Goodyear welted constructions and full-grain leathers sourced from respectable tanneries such as du Puy, Horween, and Charles Stead (the same places that supply other top-tier shoe companies). The soles are channeled, which means a thin piece of leather has been used to cover up the stitching that connects the soles to the uppers. It's a small detail, but a nice one previously only found on $600+ shoes ten years ago. The lasts, while shapely, are also reasonably conservative, matching the shoes' tasteful designs. Patrik says he likes classic, well-balanced shoes that lean towards the English side of things. For his debut collection, for example, he has some basic oxfords and derbies distinguished by their decorative swan neck detailing (that's the curvy stitching on the facings). 
What makes Löf & Tung unique is their flexible made-to-order program, which is almost unheard of at this price point. The line's base price starts at $340 (ex. VAT) and the MTO fee is a modest $120 (although you need six pairs to get something going, which can be organized through Skoaktiebolaget's StyleForum thread). There are five available lasts, all exclusive to the line, and dozens of leathers. Along with your usual mix of calfskins and suedes, they have vegetable-tanned Tärnsjö leathers, Horween shell cordovan, crust leathers, and various exotics. They even carry Horween's printed hatchgrain calfskin, which is made to look like the 200+ year-old Russian reindeer leather famously rescued from the bottom of the English Channel. Crockett & Jones uses something similar for a field boot, but it costs north of $1,000. I imagine a Löf & Tung version would be a handsome alternative – and available at half the price. 
"Working as a retailer for other brands means you're always somewhat constrained," says Patrik. "With Löf & Tung, I have full creative and commercial freedom. If I want a new style, I can go to the drawing board and have something in the shop or delivered to my customers' doors within four to six months. It's that kind of customer-orientated, flexible program that I think makes us special. That and our ability to give people reliable sizing advice as an brick-and-mortar shop fitting people all day." 
Given the tremendous changes in the market in the last fifteen years alone, I asked Patrik where he sees the footwear industry going. "I think the premium shoe market is still in shock from how quickly internet retailing has developed," he said. "It's affected not only retailers, but also the brands they carry, especially if those brands are sold around the world at dramatically different mark-ups. These differences create enormous friction. Some companies are desperately trying to police their retailers and disallow exports to certain regions, but that's not sustainable. And with how huge corporations are taking over online retailing, who knows where things will end? What if you can only buy Allen Edmonds at Amazon in five years? I don't have the answers. I can only do my thing, with both Skoaktiebolaget and now Löf & Tung, and hope people continue to support us." 
Readers interested in Löf & Tung can keep up with the line on Instagram or through Skoaktiebolaget's StyleForum thread. For $340, these shoes are a pretty Swede deal.