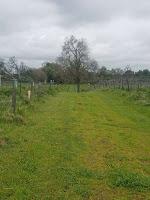 During our
Snooth
trip to Lodi, a major theme stressed was the large diversity of grape varieties grown in the AVA.  Over 100 in fact.  But this number results primarily from the unique endeavor of one family, the Koths and
Mokelumne Glen Vineyard
. This vineyard is located on the east side of the Mokelumne River AVA right alongside the river and is planted with more than 50 German and Austrian grapes. It's hard to imagine that there are even that many such grape varieties, but the Koths found them.  Their entire portfolio is listed below but we will be focusing on a few grapes:  Kerner, Bacchus, Dornfelder, Blaufränkisch, and Zweigelt.
It all started in the early 1990s when Bob Koth and his wife Mary Lou started traveling to Germany to visit their daughter Ann-Marie, who was studying abroad on a Fulbright scholarship. After becoming acquainted with German wine, Koth was determined to grow the Northern European grapes in Lodi's Mediterranean climate. Randy Caparoso, in the
Lodi Wine Blog
, explains how this was possible:
No doubt, the immediate proximity to the river's cool, refreshing waters (you still find local kids splashing away on hot summer days) helps to moderate the Mediterranean climate in the Koth family's lush, shaded corner of the wine world.




Furthermore, classic Mokelumne River AVA Tokay sandy loam – basically, a deep, fertile yet porous, slightly alkaline (pH of 7.0 to 7.5 below 4 feet) pile of finely crushed granite accumulated over millions of years of run-off from the Sierra Nevada mountains to the east – helps contribute to retention of natural acidity in grapes cultivated by Koth, even in this Mediterranean setting.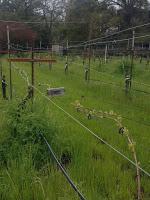 Our group was introduced to Mokelumne Glen Vineyards through a tasting of various wines produced by MGV grapes and a vineyard tour led by vineyard manager Brett Koth. The vineyard itself is nondescript and overgrown with cover crops. Walking deeper into the vineyard leads to newer plantings and a slope down to the Mokelumne River which often floods lower plots. But out of these seemingly abandoned and overgrown vines derives wonderful and complex wines.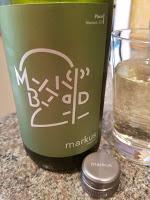 A perfect example is the
Markus Wine Company
Markus 2016 Nativo
($22), a blend of  69% Kerner, 21% Riesling, 10% Bacchus. MGV is the only source of the rare Kerner grape in California and accounts for 50% of the total crop in the United States. This was my favorite white of the tasting and one I brought home with me. The three lots are picked on the same morning and pressed together to co-ferment as a traditional field blend. The wine aged on its lees for awhile which provides a little texture for this citrus, stone fruit, and minerally driven wine. The winery also produces the
Markus 2016 Nimmo
($24) which is a 64% Kerner, 16% Riesling, 5% Bacchus blend from MGV plus 15% Gewürztraminer from Grand Island Vineyards, Clarksburg.   Here's Markus Niggli to describe the wine and Mokelumne Glen Vineyards.
I applaud to the Koth family that they have the passion for these unknown varietals and that they are willing to plant them, even facing the troubles of selling them. I believe others can learn from them. The microclimate at the lower level of the vineyard is very diverse. It is the coolest spot in the morning but restores the warmth at the end of the day. A perfect site to grow grapes. We are trying to showcase that in our wines. Our wines are light and refreshing, the acid is focused and the fruit is showcasing what Lodi can offer. A perfect example is the Nimmo blend: The Kerner has the minerality and flintiness, the Riesling the sweetness, the Gewuerztraminer the spice and the Bacchus the acidity, layered by the oak profile.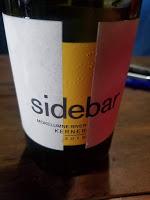 Mokelumne Glen grapes are also in high demand outside of Lodi with Sonoma's 
Sidebar Cellars
 also attracted to Kerner. Sidebar is a project from David Ramey & 
Ramey Wine Cellars
 focused on "fun and diverse" grape varieties. And their 
2018 Kerner Mokelumne River AVA
 ($25) is fun; expect bright floral aromas and acidity enveloping a textured citrus and peach core with layers of minerals and spices. According to Associate Winemaker Lydia Cummins:
"We have been working with the Bob and Brett Koth since 2014. Collaborating with such passionate growers is a true pleasure... Kerner is an aromatic white grape that was developed in the late 1920s in Germany. It is a cross between Trollinger (a red variety also known as Schiava) and Riesling and is grown most widely in Germany, Austria and in Northeastern Italy in Alto Adige. Kerner produces wines with some of the best qualities of Riesling (the gorgeous aromatics and crisp, mineral-laced acidity) paired with the mouth-filling, beautiful palate of Gewürztraminer. Some Kerners are made with residual sugar to balance acidity, but they can be problematic when pairing with food. We make ours dry so it pairs exceptionally well. We whole cluster press our Kerner for phenolic delicacy. We ferment the juice in small stainless steel barrels using native yeast and age the wine sur lie for three months. It does not go through malolactic fermentation. We lightly fine our Kerner and bottled unfiltered."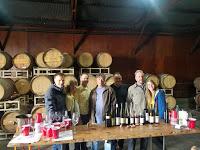 Dornfelder is one of the 16 red grape varieties grown by Mokelumne Glen Vineyards and is a dark-skinned German variety. It was created by August Herold in 1955 at the grape breeding institute in Weinberg.
PRIE Vineyards
crafts the 100%
2017 Dornfelder
($27) using a combination of MVG's older (~70%) and newer (~30%) plantings. Like a good German Dornfelder, this wine has rich layers of black and blue fruit with approachable tannins and acidity. And quite savory.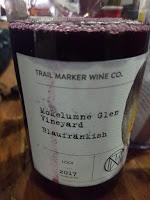 Trail Marker Wine Company
 is another non-Lodi operation sourcing MGV fruit and owners Drew Huffline and Emily Virgil were present to pour their unique California Zweigelt and Blaufrankisch. They noted that "We fell in love with the story of the Koth Family planting all these ultra-obscure varietals out in the middle of Lodi. We were also drawn to the varietals themselves and the opportunity to tell our own story with these wines. Trail Marker's focus is primarily on Chardonnay and Pinot Noir but at this point, just about everyone has an opinion of what 'California Chardonnay' or 'California Pinot Noir' should taste like - for better or worse. NO ONE has an opinion of what 'California Zweigelt' or 'California Blaufrankisch' should taste like!" And with the
Trail Marker 2017 Lodi Zweigelt
($27) expect a similar profile as the PRIE Dornfelder but replace the black and blue fruit with sour cherries.
Regular readers are familiar with our obsession with Blaufrankisch and its Hungarian equivalent Kekfrankos so I was pleased to see the
Trail Marker 2017 Lodi Blaufrankisch
on the tasting menu. In general, Hungarian Kekfrankos provide similar weight, acid, and structure as old world Pinot Noir with more spice and tarter fruit flavors. The Trail Marker Blaufrankisch has a similar character with more expressive fruit and less spice.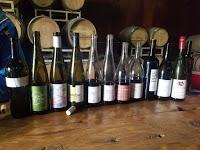 Hatton Daniels Wine Cellars
also produces a pleasant and well made MGV Blaufrankisch. Owner/Winemaker Dan Fishman prefers to source fruit from vineyards where the owner/manager actually lives on-site as "this is better than any certification for indicating someone who really cares for the land, and obviously, the Koth's exemplify this idea". He also believes that Mokelumne Glen Blaufrankisch provides the most depth and character of the MGV red grape varieties he works with and comes close to the Austrian versions "in terms of the fruit character and complexity".  Their
2018 MGV Blaufrankisch
($24) is both weighty and complex with bright fruit and approachable tannins. Cheers to Blaufrankisch and the other Mokelumne Glen grape varieties.

Red GrapesAffenthaler
,
Blaufrankisch
,
Blauer Portugieser
,
Cabernet Dorsa
(Dornfelder and Cabernet Sauvignon),
Domina
(Blauer Portugieser x Pinot Noir),
Dunkelfelder
(Färbertraube x Blauer Portugieser),
Dornfelder
(Helfensteiner x Heroldrebe),
Fruhburgunder
(a.k.a. Pinot Noir Précoce),
Regent
(Silvaner and Muller Thurgau x Chambourcin),
Rondo
(Zarya Severa x St. Laurent),
Rotberger
(Trollinger x Riesling),
Schwarzriesling
(Pinot Meunier),
Spaetburgunder
(Pinot Noir),
St. Laurent
,
Trollinger
,
ZweigeltWhite GrapesAlbalonga
(Riesling x Silvaner clone),
Arnsberger
(Riesling Clones 88 x 64),
Bacchus
(Silvaner x Riesling),
Ehrenfelser
(Riesling x Silvaner),
Faberrebe
(Pinot Blanc x Müller-Thurgau),
Forta
(Silvaner x Madeleine Angevine),
Gewurztraminer
,
Gruner Veltliner
,
Gutedel
(Chasselas ),
Huxelrebe
(Gutedel x Courtiller Musqué),
Kanzler
(Müller-Thurgau x Silvaner),
Kerner
(Trollinger x Riesling),
Morio Muscat
(Silvaner x Pinot Blanc),
Muller-Thurgau
(Riesling x Madeleine Royale),
Noblessa
(Madeleine Angevine x Silvaner),
Optima
(Riesling and Sylvaner x Müller-Thurgau),
Oraniensteiner
(Riesling x Silvaner),
Ortega
(Müller-Thurgau x Siegerrebe),
Perle
(Gewürztraminer x Müller-Thurgau),
Phoenix
(Bacchus x Villard Blanc),
Prinzipal
(Geisenheim 323 58 x Ehrenfelser),
Räuschling
,
Reisling
,
Reisling Clones (49, 110, 198, 239, 218 N356, Martini S10)
,
Roter Veltliner
,
Rotgipfler
(Traminer x Roter Veltliner),
Rulander
(Pinot Gris), Scheurebe (Riesling x unknown),
Schönburger
(Pinot Noir x (Chasselas x Muscat Hamburg)),
Siegerrebe
(Madeleine Angevine x Gewürztraminer),
Sirius
(Bacchus x Müller-Thurgau),
Sylvaner
,
Traminer
,
Weißburgunder
(Pinot Blanc),
Würzer
(Gewürztraminer x Müller-Thurgau)